HUBSAN ZINO Pro FOLDING DRONE w/EXTRA BATT,CAR CHG AND BAG


Capture amazing images and video from a whole new perspective with the H117S Zino Pro Ultra HD 4K Quadcopter from HUBSAN. Whether you're a photographer, videographer, or just want some stunning vacation shots to share on social media, the Zino Pro can give you up to 4K video quality via the built-in 3-axis gimbal camera. A remote controller is included with the Zino Pro, which lets you operate the drone via dual control sticks and your smartphone (up to 3.2" wide) with the X-HUBSAN app installed.
Through the controller, you can perform a variety of flight modes and functions with the Zino Pro. You can take 360° panoramic videos, follow a specific subject, follow a custom flight plan, and more. Thanks to built-in GPS, you can fly the Zino Pro stress-free, as multiple fail-safes and a "Return to Home" function helps to keep the Zino Pro safe. With a folding arm and blade design, the Zino Pro is compact and can be taken almost anywhere you want to capture jaw-dropping aerial photos and video.
Features
Dual-satellite positioning (GPS+GLONASS)
Powerful brushless motors
4K camera (3840 X 2160 @ 30FPS) with Ambarella A12S CPU and 1/3″ Sony sensor
3-axis mechanical image stabilization
HD WI-FI video transmission
Panorama photograph
Detachable lens protector – can be equipped with filters
Smart flight modes (like: Image tracking, Line fly mode, Orbiting and Vision landing)
Fail-safe return to home
Up to 4KM control range
About 23 minutes of flight time
Extra Battery
Car Charger
Carry Bag
Specifications
Motor: Brushless motor
Max flight speed: 10m/s
Windless Hover time: 23min
Positioning: GPS+GLONASS
Resolution: 4K:3840*2160 30fps
Battery capacity: 3000mAh
Battery type: 3S lithium battery
Scheme: LEAS 1.0
Max signal range (no interference, no obstacle): 4km
Built-in battery: 2600mAh
Charging time: 2.5h
Image Chip: Ambarella A12S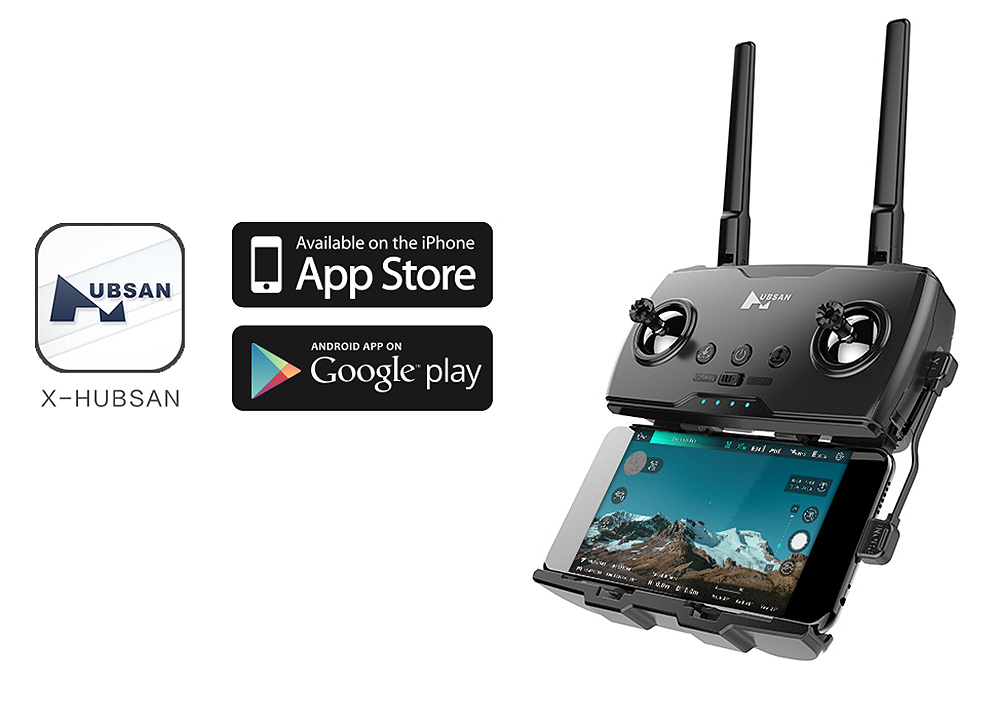 Declarations of Conformity
H117P-HIGH Declaration of Conformity
Important Drone Safety Information
Safe flying is YOUR responsibility.
Update 21 October 2019: Drone and model aircraft registration and education service is mandatory from: 30 November 2019
Anyone responsible for a drone or unmanned aircraft (including model aircraft) weighing between 250g and 20kg will need to register as an operator. The cost for this will be £9 renewable annually.
Anyone flying a drone or unmanned aircraft (including model aircraft) weighing between 250g and 20kg will need to take and pass an online education package. This is free and renewable every three years.
As per CAA guidelines, any drone lower than 250g in weight, but inclusive of a camera must be also be registered. Click here for drone registration requirements as outlined by the UK Civil Aviation Authority.
Both of these requirements become law on 30 November 2019.
From 5 November 2019 the system will be available at Register-drones.caa.co.uk.
For full details please visit: https://www.caa.co.uk/
Be Safe - Be Lawful - Be Drone Aware!
We fully encourage safe and responsible flying
The Dronecode:
When you fly a drone in the UK it is your responsibility to be aware of the rules that are in place to keep everyone safe. Follow these simple steps to make sure you are flying safely and legally.
Full details of the Drone Code: https://dronesafe.uk/drone-code/
We recommend you visit the CAA website for full information on safe and responsible flying.

The Civil Aviation Authority website (UK): https://www.caa.co.uk/Consumers/Unmanned-aircraft-and-drones/
Need help finding your dream drone?
Visit our RC Drone Comparison page and find the right drone for you!