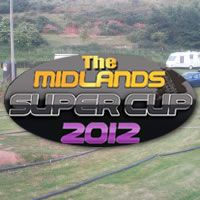 TMSC Round Two Ledbury
16/05/12
54% say YEAH as 7 out of 13 Associated RC8.2's make the main at round 2 of The Midlands Super Cup. The victorius Craig Drescher reports back...
Ledbury is a new track for many and is a club thats taken full advantage of the opportunity to host a round of the Super 12. Its taken a lot of hard work and effort by the club to convert this track from grass/dirt to 80% astro turf. Its certainly heading in the right direction. Still with some old skool sections the track has managed to claw its way into the 21st century. The astro sections are grippy, smooth, fast and flowing and the grass sections are slick and bumpy so its a difficult mix to get right. Its not quite the all weather track but we were bathed in glorious sunshine, so who cared..

"The Howler" took advantage of some early track knowledge to secure a solid TQ in dominating fashion taking both rounds with change to spare. Both his car and him looking very fast and comfortable. Nobody can question Jon's commitment and dedication but we do worry he will have a seizure one day if he doesn't relax. He is one intense dude at the race track. It was fantastic to see him driving some of the best races I've seen in a long time. We can comfortably say that he's settled nicely into driving the RC8.2 and looks a different guy on the race track.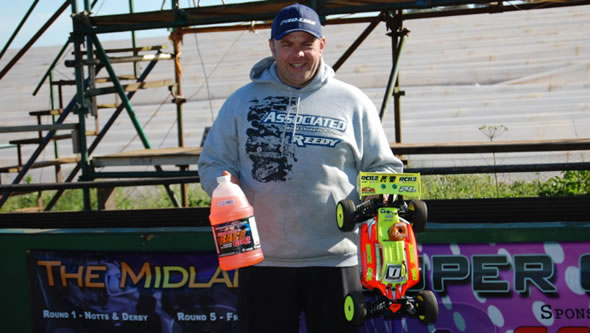 Round 3 saw a return of ODB from his success at the first round. Dave taking the only 11 lapper of the day. Awesome job Dave. With 6 AE's straight into the final it was Matthew Lawrence who made it the 7th RC8.2 into the final. Driving himself into the final after qualifying in the D final. Finally finding his 2011 form late in the day. Boot campers Adam Taylor and Ryan Lawrence also had a good days racing and managed to make the B. New AE convert Aaron Girling also had a great result and managed a very respectable B final position. Staying put with a car will do him the world of good. All these guys should be really proud of themselves and we look forward to seeing them develop over the year.

Young, Ryan Lawrence, was our favourite improver on the day with his smooth 'Button' style and calm attitude. It's refreshing to see such a young guy be so collected. Well done Ryan you drove awesome.

A final line up with 7 AE's from 13:




For the seniors parties in the group I'm continually impressed by Pitty. He just keeps getting better and better. Well done Lloyd for another A final and all round great drive. Eventually finishing in 6th place. from 7th and having another top days driving.

The Galvinator put in his best performance to date throughout qualifying and maintained a calm approach during the day. Unfortunately he had a slightly hotter final. Soon to be putting his anger management classes into practice.

Young Booth finally found his feet towards the end of the day after playing in the dirt for the past couple of weeks. Switching between the 2 surfaces can be difficult and Mitch did a great job of making the final and getting himself up to speed.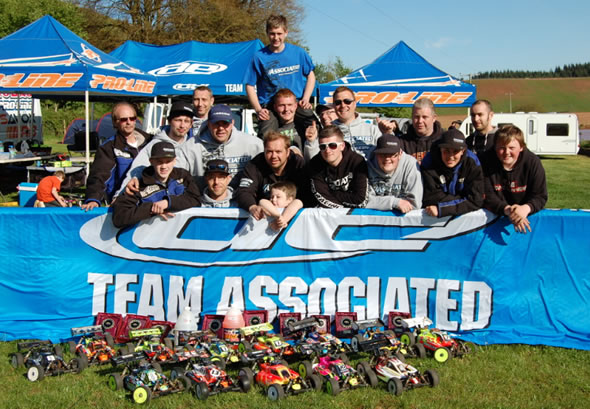 Unlucky award goes to the Shake. Another B-Q and no bump for him after been so fast in qualifying and dipping out of the final by a rizla paper. He's had more B-Q's than anybody I know. If its 11 cars straight in- he finishes 12th- if it was 15 in then he'd be 16th. Not bad after just over a year racing and one of the most improved drivers of the year. Keep up the good work son and keep calm in them finals.

I'd like to thank all the guys in the team for always making it a great days racing and so much fun. Wozza, Griff, Pete- the whole gang just make it a fun day and I love doing these races.

Personally my day was a disaster in some respects and fantastic in others. Screws falling off, receiver packs going flat and then I was lucky to finish the final with a missing king pin and 4 shock screws that I hand't tightened after changing my oil just before the final. Who needs screws right? I've never had so many parts fall off my car. But it all came good in the end.

Going to thicker oil for the final was the best thing I could have done. When everybody else's cars started to go off mine stayed strong to the end. I could hit the jumps harder and the car wouldn't bottom out and it was more stable thought the bumps and high speed corners on the astro. I wish I'd have done it earlier. Never be afraid to change something if you think its a good judgment call. Thats my 'Jerry Springer' note to myself. Download my winning RC8.2 setup here.

I love not having to think about tyres - not having to run new ones and not having to guess what might work. Just like comparethemeerkats.com. Its simples.

Here's how the finals ended up: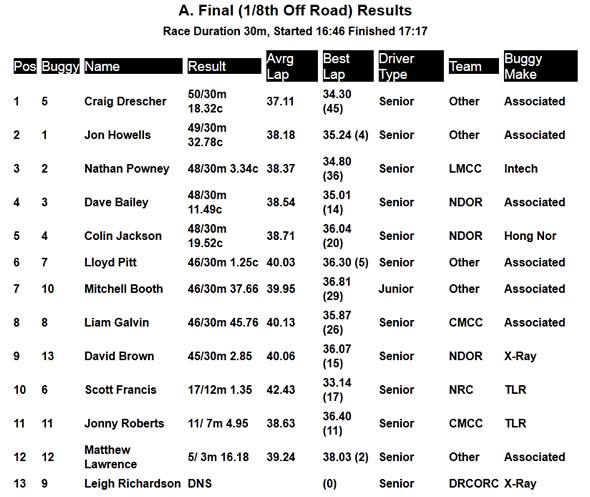 Keep your eyes peeled for the AE driver program coming soon.

Thanks again to all the Super 12 guys for putting on a great meeting and giving us something to do on a sunny Sunday. I look forward to the next one.

Craig Drescher