New - Pro-Line Ambush Clear Body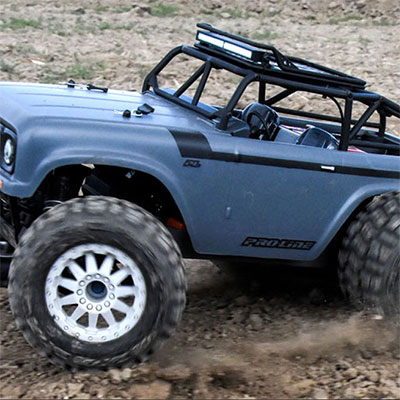 Pro-Line releases a new version of the highly popular Ambush body with included Cage for scale crawlers!
The original Ambush body was released many years ago, well before scale crawling went "mainstream", so Pro-Line has updated the body style for more modern tastes. The Ambush body includes Pro-Line"s Ridge-Line Trail Cage molded to replicate full scale cages and accepts Pro-Line"s Overland Scale Roof Rack (sold separately) for adding scale accessories like the 4" LED Light Bar (sold separately). The Ambush body features a scale interior complete with seats and a separate dash along with a rear gas tank and trunk space for installing even more scale accessories. Add rugged good looks to your 12.3" wheelbase Crawler – Get the Ambush Body with Cage today!

Pro-Line Ambush Clear Body Features:
Completely transform the look of your truck
Includes Ridge-Line Trail Cage
Scale Interior includes seats and separate dash
Made with Crystal Clear Genuine GE Lexan®
The Ambush body is availible for 1/10 crawlers and monster trucks or a specific custom version for the PRO-MT 4x4 and Traxxas Stampede 4x4.
Facebook