CML Off-Road Masters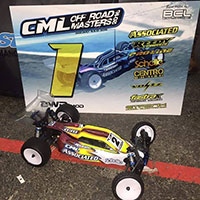 Jolly holidays for team CML last weekend as 3 key members headed over to France for the 3rd CML Off-Road Masters.
After previous successful CML events, CML France and Buggy Club Luparien (BCL) put on a cracking show at their regular indoor event venue at Louvres just north east of Paris. Right next to Charles De Gaulle airport it makes for easy access and the CML elite international race team of Wes Myles, Russell Lee and Keith Robertson made the trip over to race.

With great support from the BCL club members for track repair, booking in, technical inspection and race control the meeting ran smoothly with any issues dealt with quickly and efficiently. They even put on a variety of food and drink that was fantastic. Thank you very much to the people who kept us fed and watered for the weekend! There were some great prizes to win and some lovely plaques for those that were lucky enough to do well in their finals. The club worked hard to accommodate everyone who wanted to race, running 12 car heats and finals (which was fine on the large track) but it was over-subscribed so apologies to anyone who did not make it in.
The track itself was a real test for the drivers. The carpet was not what the UK drivers would consider high grip which made it much more fun to drive. The jumps were well positioned with good profiles for the up ramp and the majority of them had down ramps too making it easier on the cars. The two (yes – two) 'wall of death' sections were amazing to drive, it was almost unbelievable the speed that could be carried round them and it was rather hard to convince the brain that they could be taken almost flat out.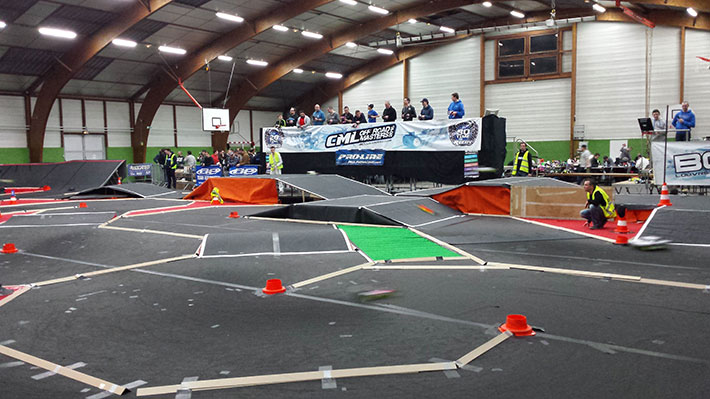 Proline Pin-Point tyres were the control rubber for the rear axle in all classes with Pin-Point fronts for 4wd and Short Course, and Wedge Squared for 2wd. With no ability to control additive use it was not prohibited which was new for us Brits and took a bit of getting used to but did not cause any problems. Tyre wear was good with grip being very consistent right from the start of practice.
Practice was available all day on Friday with a voucher system in use to make sure drivers all got a fair shot at getting track time. This worked great and just as well as most the racers were in attendance to get in some stick/wheel time in preparation for qualifying. There was practice on both Saturday and Sunday mornings too for those unable to make the Friday.
Race format was a little different to the UK with three rounds of qualifying, using the best two results on a round by round basis to determine your finals position. This meant that everyone had three leg finals with the best two results to count. More racing for all which is what most people prefer.
Saturday
Saturday saw two classes racing. Open 4wd and what is known as the 2wd Promotion class in France, which is 2wd with 13.5t motors. These allow ESC timing to be added so had good speed down the straight but weren't a handful out the corners, it was actually really good to watch.
2wd Promotion qualifying was dominated by Fabrice Goujon who took all three rounds. Fabien Bellenger lined up second ahead of Sacha Koslowski. Russell was stoked to make the top half of the grid in fifth place and Wes joined him in A final in ninth. Special mention firstly to young lady Emilie Halluin who drove really well to make the A final in seventh, and secondly to Philippe Hautecoeur who made it on the back of the grid with his vintage rear motor RC10 – top work!
4wd qualifying was much more frantic and it was very close between Lorenzo Crolla and Nicholas Risser with Lorenzo just edging it to take pole position. These two were a little clear of Stephane Deroch in third. Keith was doing his best to uphold the UK's honour lining up in eighth.
In the 2wd Promotion finals the top three drivers put on some great racing for the crowd. It didn't go all Fabrice's way but he did enough to take the overall win:
Fabrice Goujon
Fabien Bellenger
Sacha Koslowski
Hadrien Nugier
Damien Dolle
Russell Lee
Roger Tison
Emilie Halluin
Wes Myles
Yann Petit
Michel Berty
Philippe Hautecoeur
The 4wd finals were full of drama as Nicholas suffered issues in all three legs, leaving Lorenzo eventually unchallenged at the front to take the win:
Lorenzo Crolla
Jean-Patrick Sartel
Stephane Deroch
Mathieu Briere
Tom Maquel
Romain Valter
Jean-Baptiste Geneau
Robert Raphael
Keith Robertson
Francois Guerbois
Quintin Le Gall
Nicholas Risser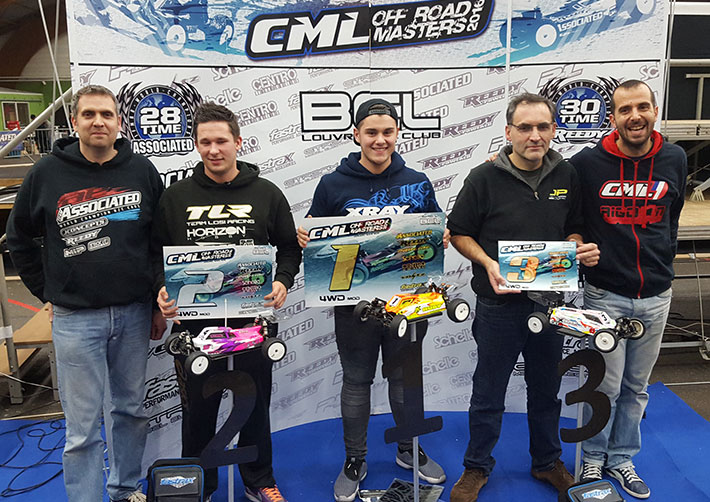 Sunday
The track remained the same for the even on Sunday which was for 2wd Short Course trucks and Open 2wd.
There were two full heats of Short Course and it was great watching them door-handling round the track. At the front Nicholas Evens took pole position ahead of Philippe Hautecoeur and Laurent Halluin. For the Brits Wes put his ride into a great sixth on the grid having never driven it until the Friday practice.
It was also great to see some realism on the Short Course vehicles with some drivers adding lights for more effect. Patrice Bertin took it one stage further, adding sound too. If someone got too near his truck he would switch the siren on to warn them off. Great fun!
The 2wd Open class was VERY close on times, with any errors punishing the driver in terms of overall position. Trying to make up for his unlucky 4wd finals it was Nicholas Risser who put his car on pole position ahead of Ludovic Valtier and Stephane Deroch. For the Brits Keith was close to the A but would line up second in the B final whilst Russ did a fine job to make the E final in a very competitive field.
It all went wrong in the Short Course finals for Nicholas Evens and he did well to fight back but it wasn't quite enough to make the podium, and after a nail biting final leg it was Philippe who took the victory:
Philippe Hautecoeur
Laurent Halluin
Cyril Sausset
Nicholas Evens
Arnaud Le Cocq
Matthieu Le Mee
Wes Myles
Patrice Bertin
Thomas Bertel
Emilie Halluin
Regis Lelarge
Laurent Le Brun
The 2wd finals were full of incident and the crowd really got into it with plenty of cheering and support for their favourite drivers. More mechanical woes beset Nicholas Risser as his finals continued where they left off on Saturday – I really have never seen someone have so much bad luck! With Nicholas out the picture it was dramatic stuff as the gaps varied and drivers clipped corners here and there, racing on the limit. In the end it was Ludo who proved his mettle under pressure from Lorenzo (who had clearly gained confidence since qualifying) and Stephane to take a well-deserved victory.
Ludovic Valtier
Lorenzo Crolla
Stephane Deroch
Romain Valter
Vincent Meertens
Robert Raphael
Mathieu Briere
Julian Ferrandis
Thibault Jacqueloot
Kevin Seysen
Tom Maquel
Nicholas Risser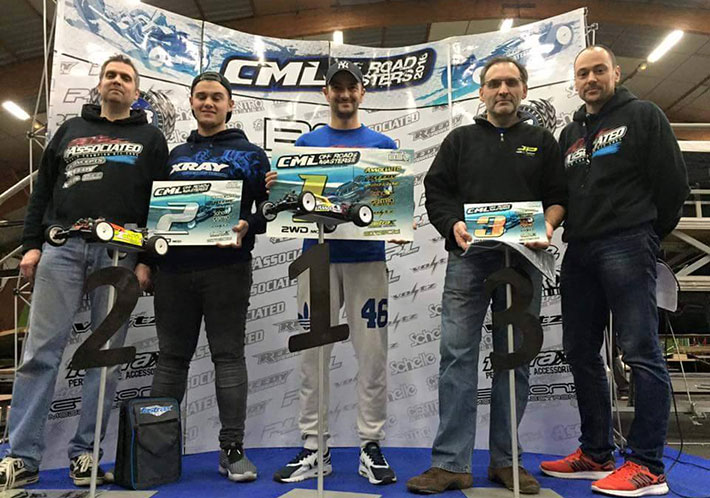 Congratulations to all the winners! The Brits fared well in their finals with Russ finishing in sixth in his race and Keith in third for his. Unfortunately with a tight travel schedule they were unable to make the podium ceremonies.
After a testing event in 4wd 'Valdo' did a great job to bounce back in 2wd and get a great win with his Reedy powered Associated with Schelle tuning options.
Click to view a full picture gallery of the event via Flickr.
One thing that was noticeable over the weekend was the driving etiquette in the finals. With modern cars things are always going to be a bit hectic and mistakes are easy to make, but there were numerous incidents where contact was made and the driver that caused the contact would wait for the driver they hit to resume ahead of them. There was no fuss, just pull over to the side and wait for the car to re-pass. It was great to see and the crowd would always respond by clapping to show the sportsmanship. I have to say this made it was a real pleasure to race in the finals so thank you to all the drivers.
Again, thanks to all those involved who put in their time and effort to making the CML Off-Road Masters such a successful and enjoyable event. We're looking forward to the next one already.

Facebook