HUBSAN 216A DESIRE X4 PRO DRONE GPS W/1080P, RTH, FOLLOW AND WAYPOINTS
The H216A X4 Desire Pro is Hubsan's latest APP FPV Quadcopter and features a built-in 1080P HD camera, return to home mode, automatic take off, intelligent failsafe return to home, built in GPS, followme flight mode, altitude adjust and a headless flight mode to make the quad even easier to fly for novice pilots.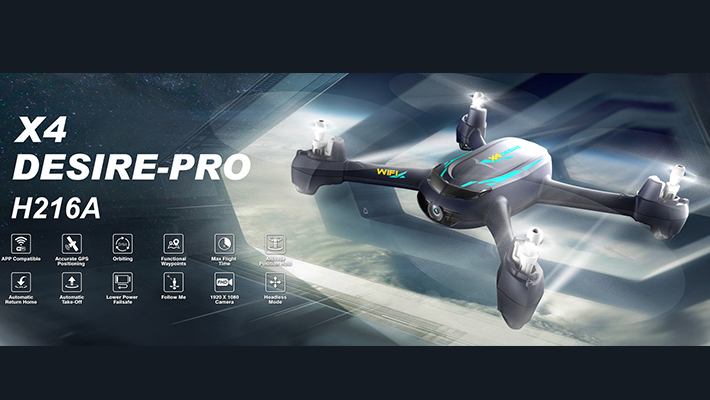 Hubsan have done it again with its impressive array of features, some of which are normally found on much more expensive models.
The orbit mode, follow me mode and GPS waypoints coupled with the 1080P HD camera allow for some stunning aerial photography and videos, the high capacity battery and altitude height adjust mean is can give flight times of up to 20 minuets.
The H216A features two failsafe modes, an intelligent low power failsafe mode will automatically determine when return to home depending on the amount of power it has left, and the signal failsafe mode will automatically return home if a signal break is detected.
Hubsan H216A X4 Desire Pro Features:
1080P HD camera
Low power failsafe
Signal loss failsafe
Altitude height adjust
Follow me mode
GPS waypoints
Orbit shooting
Automatic takeoff
Return to home
Headless flight mode
6-Axis gyroscope
Charging time: about 210 minutes
---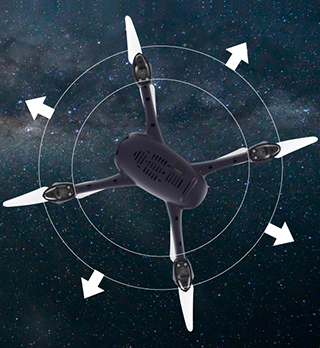 Headless Mode
The Hubsan H216A features a headless flight mode which makes flying easyand makes the H216A even easier to fly for beginners and more experienced pilots. With the headless mode the quadcopter will always fly forward no matter which way it is pointing, so you don't have to worry about the orientationof the quadcopter.
---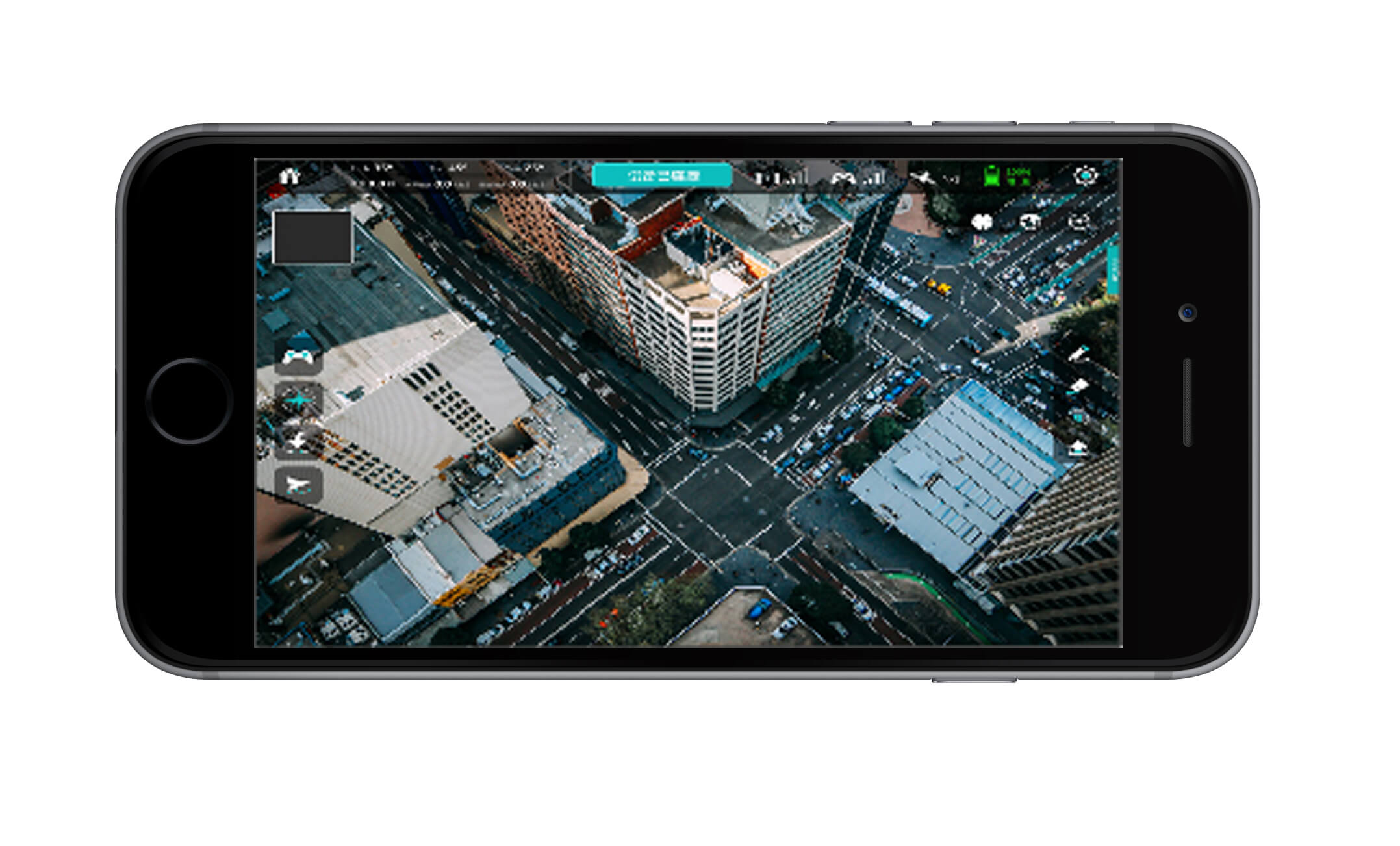 Live Streaming FPV and App Orbit Shooting
The H216A features a real time 1080p resolution WiFi video feed to your mobile device for flying and image capture. With the orbit shooting you can set a point and your H216A will fly 360 degrees around the orbit point allowing you to capture that perfect image or video.
---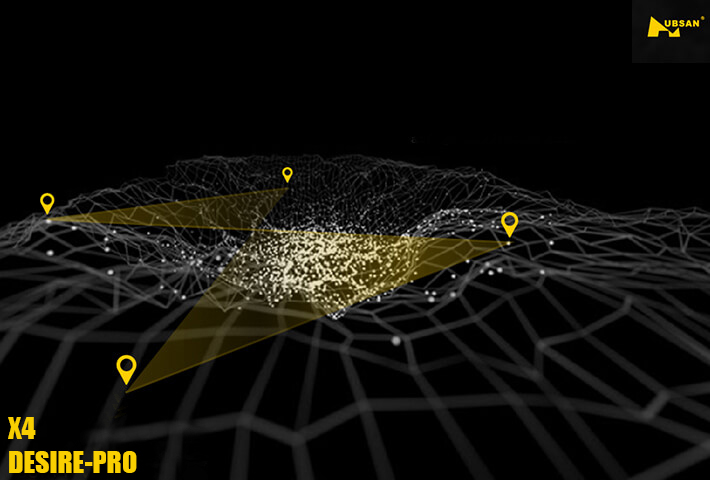 APP GPS Waypoint Flight
The H216A has an array of GPS flight features, you can set waypoints so the H216A will fly a course you set on the map. The gravity sensor coupled with the accurate GPS positioning help the H216A maintain a fixed position and height, all of this is controlled from the convenience of your IOS or Android device.
---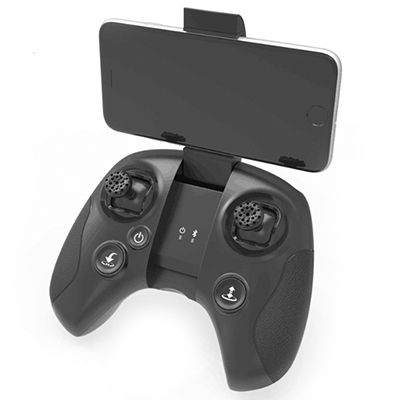 HT009 Transmitter
The H216A is APP driven in this smart device connected world and is supplied with a traditional transmitter. The transmitter allows the H216A to be flown in a more conventional way with a smartphone* connected to capture video, stills and use the advanced features of the H216A.
*Smartphone not included
---
Spec Check :
4ch Transmitter, 2.4GHz
Remote Control Distance: 50-100 Meters
APP control via IOS or Android
devices
Gyro: 6 Axis
Battery for H216A: 7.6V 750mAh LiPo
Flight Time: Upto 20mins
Width: 180mm
Height: 60mm
Length: 180mm
What's Included In The Box :
1 x Hubsan H216A Quadcopter
1 x HT009 Transmitter
1 x USB LiPo Charger
4 x Propeller
4 x Propeller Guards
1 x Screw Driver
1 x LiPo Battery
1 x Instructions

*This Model is compatible with the UK/European GPS service, some grey imported units may not be*
WARRANTY Please Note: Any non-UK or pre-approved software or firmware updates will invalidate the warranty of this item.
Important Drone Safety Information
Safe flying is YOUR responsibility.
Update 21 October 2019: Drone and model aircraft registration and education service is mandatory from: 30 November 2019
Anyone responsible for a drone or unmanned aircraft (including model aircraft) weighing between 250g and 20kg will need to register as an operator. The cost for this will be £9 renewable annually.
Anyone flying a drone or unmanned aircraft (including model aircraft) weighing between 250g and 20kg will need to take and pass an online education package. This is free and renewable every three years.
As per CAA guidelines, any drone lower than 250g in weight, but inclusive of a camera must be also be registered. Click here for drone registration requirements as outlined by the UK Civil Aviation Authority.
Both of these requirements become law on 30 November 2019.
From 5 November 2019 the system will be available at Register-drones.caa.co.uk.
For full details please visit: https://www.caa.co.uk/
Be Safe - Be Lawful - Be Drone Aware!
We fully encourage safe and responsible flying
Do you have adequate insurance cover for loss "Flyaways" or third party liability?
Click here for the facts on insurance: http://droneaware.org/insure

The Dronecode:
When you fly a drone in the UK it is your responsibility to be aware of the rules that are in place to keep everyone safe. Follow these simple steps to make sure you are flying safely and legally.
Full details of the Drone Code: https://dronesafe.uk/drone-code/
We recommend you visit the CAA website for full information on safe and responsible flying.

The Civil Aviation Authority website (UK): https://www.caa.co.uk/Consumers/Unmanned-aircraft-and-drones/
Need help finding your dream drone?
Visit our RC Drone Comparison page and find the right drone for you!