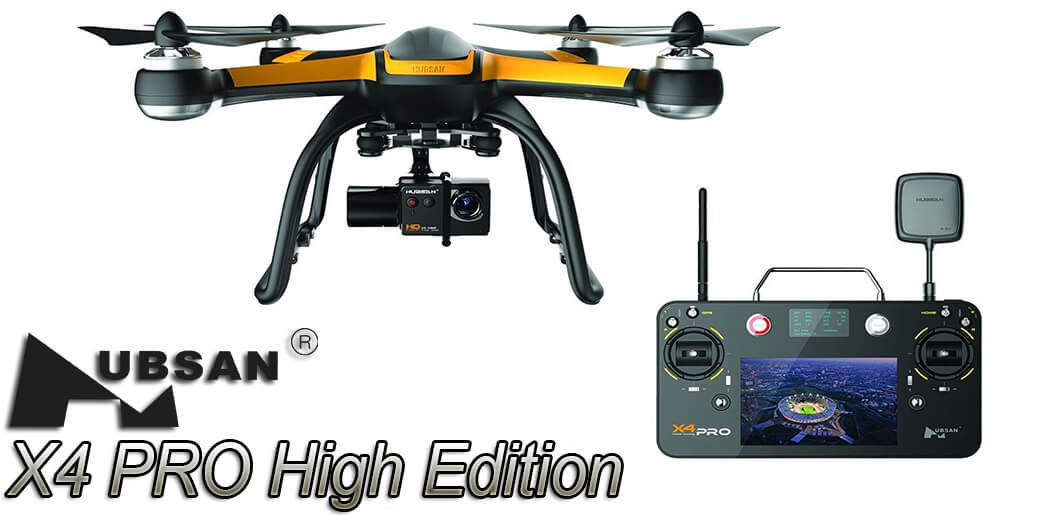 The Hubsan X4 Pro High Edition is a high performance 1080P HD camera equipped quadcopter with a three axis gyro camera gimbal and many high end features. It is the perfect Aerial photography quadcopter which fly's with unbelievable stability and has fail safe systems to let you fly with complete confidence.
The Hubsan X4 Pro High Edition is great for taking amazing aerial shots, with everything you need to start flying included. With a video and control transmission distance of up to an impressive 1000m (weather/location Dependant) it lets you see the live feed on the controller from afar, which ensures shots are taken just as you wanted. The added bonus of a flight time of up to 25 minutes means you have a lengthy amount of time to position the camera to capture that landscape view you have always dreamed of.
Hubsan X4 Pro High Edition Quad Features:
6 Axis Gyroscope
GPS position and hovering
Compass
Automatic return home failsafe
Low-voltage protection
One button landing
Headless flight mode
2.4G System with up to 1000 meter control distance (Weather/Location Dependant)
Charging time: 3.5 hours
4 x Brushless drive motors
11.1V 7000mAh LiPo Battery
---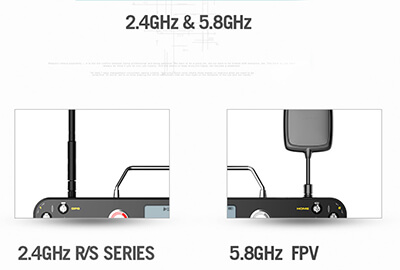 2.4GHz and 5.8GHz
The Hubsan X4 Pro High Edition Quadcopter features a 2.4GHz control system, the throttle stick always returns to the centre, releasing the throttle stick allows the H109S to hover and hold a stable position. The 5.8GHz video transmission allows for increased range with a stable reliable clear image.
---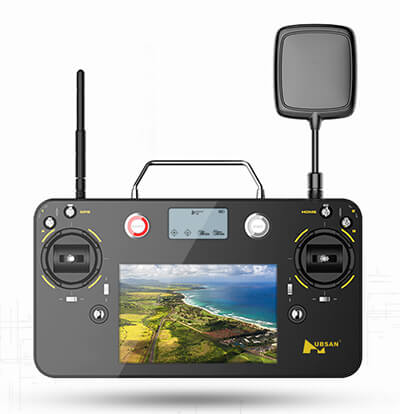 H7000 Handset
The Hubsan X4 Pro High Edition comes as standard with the full function H7000 flight handset. This handset is an all-in-one inclusive device, with flight controls and dedicated buttons for mode selections, return to home and gimbal controls. There are two screens on the controller, one of which is the OLED screen which displays telemetry information such as remaining battery life, duration of flight and the distance between the Hubsan X4 Pro and H7000 handset. This helps to provide a bundle of useful information to hand without you needing to find it. The other is the embedded seven inch touchscreen android device, which provides you with a live video feed and a map of the area you are flying. Both the live video and map can be set side by side giving you a sense of direction while you fly. The H7000 handset is also used to set waypoints on the map, with each point being potentially different with altitude, direct and hold time settings available.
---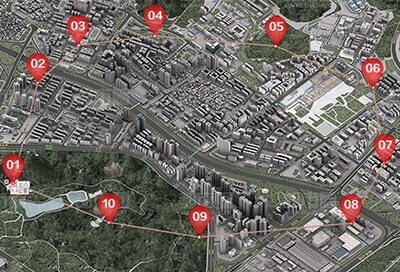 GPS Waypoints
The Hubsan X4 Pro High Edition features a GPS which is used for waypoint programming, return to home and position hold functions. The programming is compatible with Google maps and lets you program up to 32 separable saveable waypoints, each one is adjustable for altitude, time at waypoint and even the direction of the X4 Pro.
---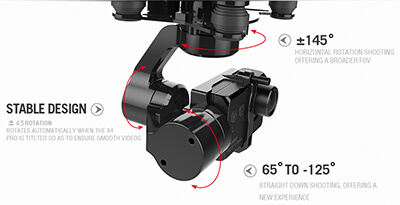 3-Axis Camera Gimbal
The Hubsan X4 Pro High Edition features a 3-axis gyro camera gimbal to stabilize your images and videos and help you get those amazing shots, the gimbal can also be controlled from the H7000 handset to fine tune your shots with the 1080p camera.
---
Spec Check :
Width: 300mm
Height: 200mm
Length: 300mm
Battery: 11.1V 7000mAh LiPo
Motor: 4 x Brushless Motor
Flying Weight: 1060g (without accessories)
What's Included In The Box :
1 x H109S X4 PRO Quadcopter
1 x H7000 Handset and Antenna
1 x Instructions
1 x Charger and Adapter
4 x Propeller and Guards
1 x LiPo Battery
1 x 3-Axis gimbal
1 x 1080p Camera