FMS 70mm VIPER V2 EDF PNP 15th ANNIVERSARY VERSION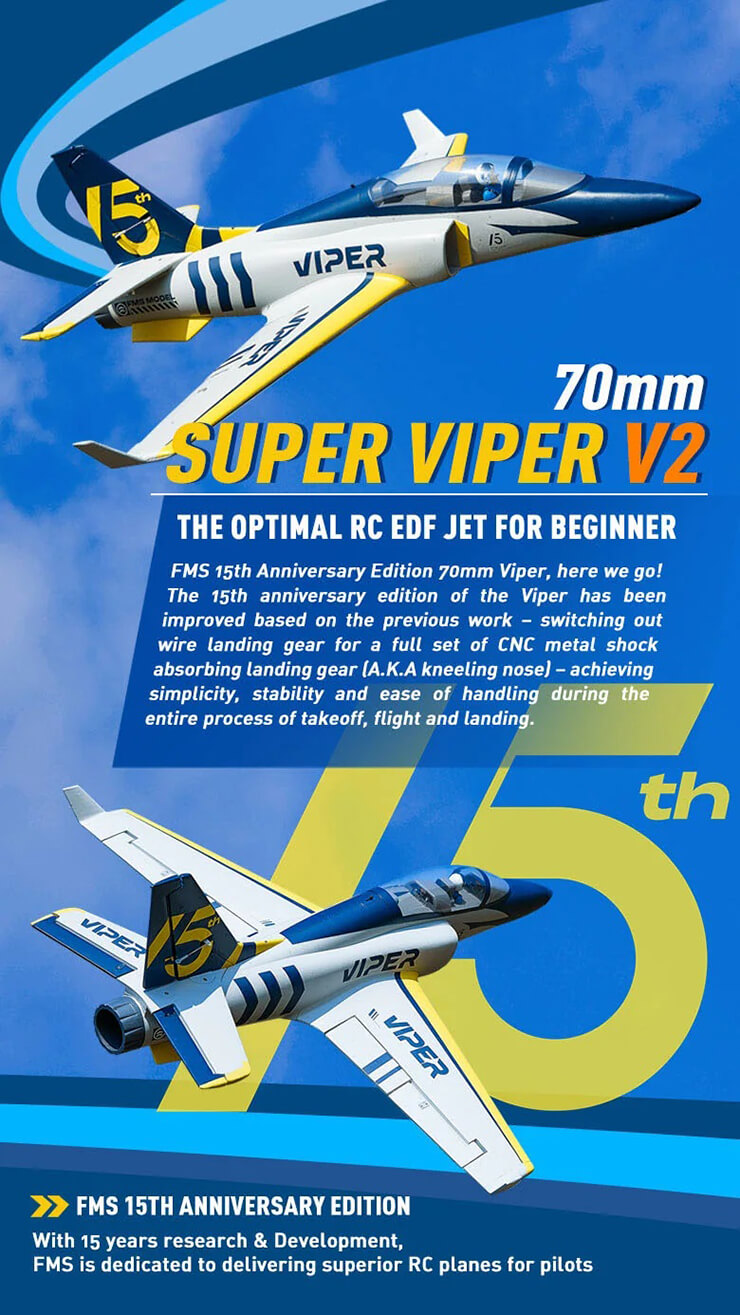 The original 70mm Viper wasn't always the first choice for novice jet players – but now, she is! FMS 15th Anniversary Edition 70mm Viper, here we go! The comment from players that the Viper "does any acrobatic trick you can throw at it" is a true portrayal of the excellent performance of The 70mm Viper.
The full set of CNC machined metal shock-absorbing landing gear (with the upgraded kneeling front landing gear replacing the wire landing gear). Combined with the precise control provided by the digital metal gear servo system and ball joint linkage, the Viper is easy to control throughout the flight, comparable to that of a sports aircraft. The humanized snap-on cockpit design. Airframe with optimized aerodynamic design with longer wings and wingtips that reduce air resistance, making the Viper's posture clearer during flight. Equipped with a high configuration power system: Highspeed brushless 3060-KV1900 motor, 70mm 12-bladed ducted fan, and precise, high-quality 80A ESC. Provide excellent vertical performance and instantaneous throttle response in flight. Perhaps even more fascinating is the sound the powertrain makes -- it's almost like a real turbine!
Please Note: Plane includes the ESC, motor, and servos all pre-installed from the factory. Transmitter, receiver, battery, and charger are not included.
Features
FMS 15th Anniversary Edition
High-quality 80A ESC, powerful KV1900 in-runner motor with the latest 70mm 12-blade EDF
A full set of CNC metal shock-absorbing landing gear (A.K.A kneeling nose)
With flaps (servo-installed)
Screw-together construction
Clip-on cockpit design
Pre-installed ball-head joints provide precise surface control
Wingspan 1100mm LengtH 1025mm
9g Metal gear servos x 8
Requires 6Ch radio & 6S 3300mAH Lipo.
Specifications
Wingspan: 1100mm /43.3 in
Overall Length: 1025mm / 40.4 in
Flying Weight: Around 1795 g
Motor Size: 3060-KV1900 inner running
ESC: 80A
Servo: 9g metal digital servo x 8
Radio: 6 Channel
CG (center of gravity): 90-95mm(From Leading Edge)
EDF: 70mm Ducted Fan 12-blade
Recommended Battery: 6S 3300mAh 35C
Aileron: Yes
Elevator: Yes
Rudder: Yes
Flaps: Yes
Retracts: Yes
Approx. Flying Duration: 4 minutes
Minimum Age Recommendation: 14+
Experience Level: Intermediate
Assembly Time: 10-30 minutes
Wing Load: 93.5g/dm² (oz/in²)
Wing Area: 19.2 dm² (sq.in)
Required To Complete
Transmitter
Receiver
Battery and charger

For further information: on flying your RC plane in a safe and responsible manner please check out www.bmfa.org