The remarkable USAF F-16C Fighting Falcon is known as the most capable single engine supersonic multi-role fighter aircraft in the world. It is also one of the most prolific fighters in service in the USAF. It is a true American marvel! FMS would like to announce the release of a fully upgraded 70mm F-16C! Following the success of the 64 mm F16C V2, the enhanced F-16C 70 mm is sure to impress! This new version features a more detailed scale look, boosted aerobatic performance and the famous FMS user friendly assembly design.
The FMS 70 mm F-16C adopts a scale USAF camouflage. With five different decals and pin-up sticker set ups, you build and customize you own plane.
In addition to looks and its streamlined aerodynamic shape, the new F-16C is equipped with strengthened retractable landing gears, that ensure a smoother take-off and landing experience for all pilots.
Get ready to experience real combat manoeuvres with the new F-16C! With a 70 mm 12-blade ducted fan, powerful KV1850 inner running motor and predator 70A ESC, the F-16C boasts extraordinary performance and thrust!
What are you waitingfor? Add the new FMS 70 MM F-16C Fighting Falcon to your hanger today!
---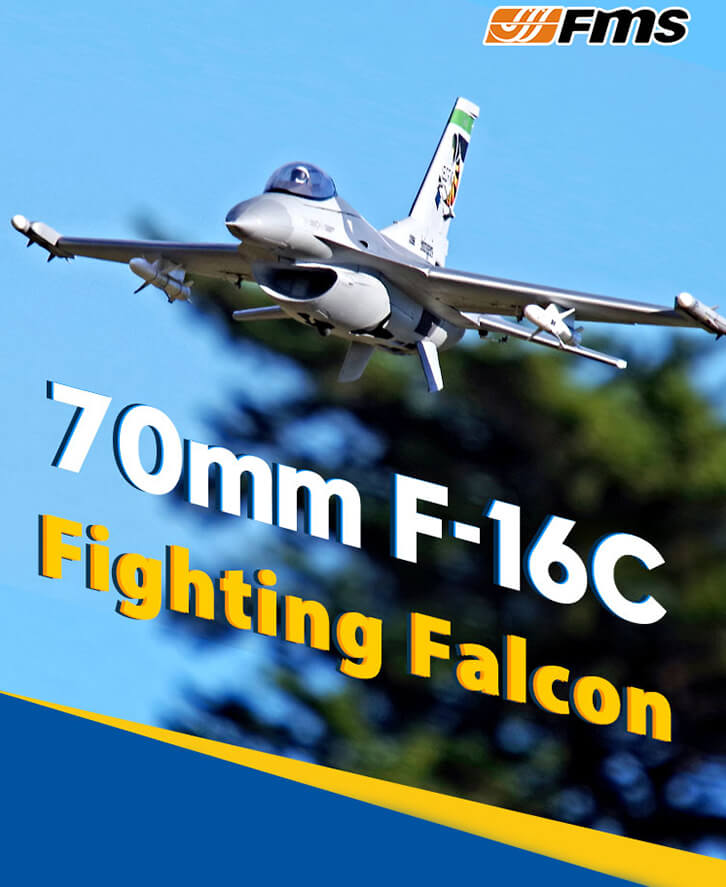 Features
More detailed scale look
Boosted aerobatic performance
CNC machined landing gear set for added support and strength
Metal-geared servos for precise and accurate control surface movements
Scale details - pilot figure, auxiliary fuel tank and retractable landing gear
New Design ball-linked control horns for precision manoeuvres
Button type canopy latch for simplified assembly methods
Five different decals set for complete customisation
Water-based, environmentally-friendly paint for more vibrant colours
70mm 12-bladed fan provides high power-to-weight ratio
Specifications
Wingspan 813mm
Overall Length 1258mm
Flying Weight Around 2090g
Motor Size Inner running Brushless 2860 KV1850
ESC 70A
Servo 9g x 6
Radio 6 Channel
CG (centre of gravity) 95-105mm (From Leading Edge)
Prop Size 70mm 12-bladed fan
Recommended Battery 6S 3300mAh 35C Li-Po
Battery Connector: XT-60
Aileron Yes
Elevator Yes
Rudder Yes
Flaps No
Retracts Yes
Minimum Age Recommendation 14+
Experience Level Intermediate
Recommended Environment Outdoor
Assembly Time 30 minutes
Material Durable EPO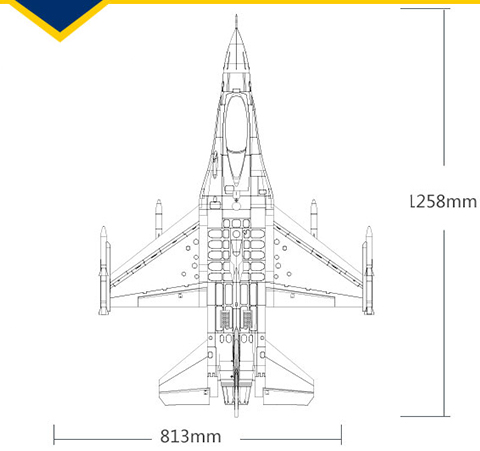 Please Note: This kit requires the following for completion:2.4 Ghz Radio System, 6S 3300mAh 35C Li-Po Battery and Charger.