FMS BAE HAWK RED ARROW 80MM EDF ARTF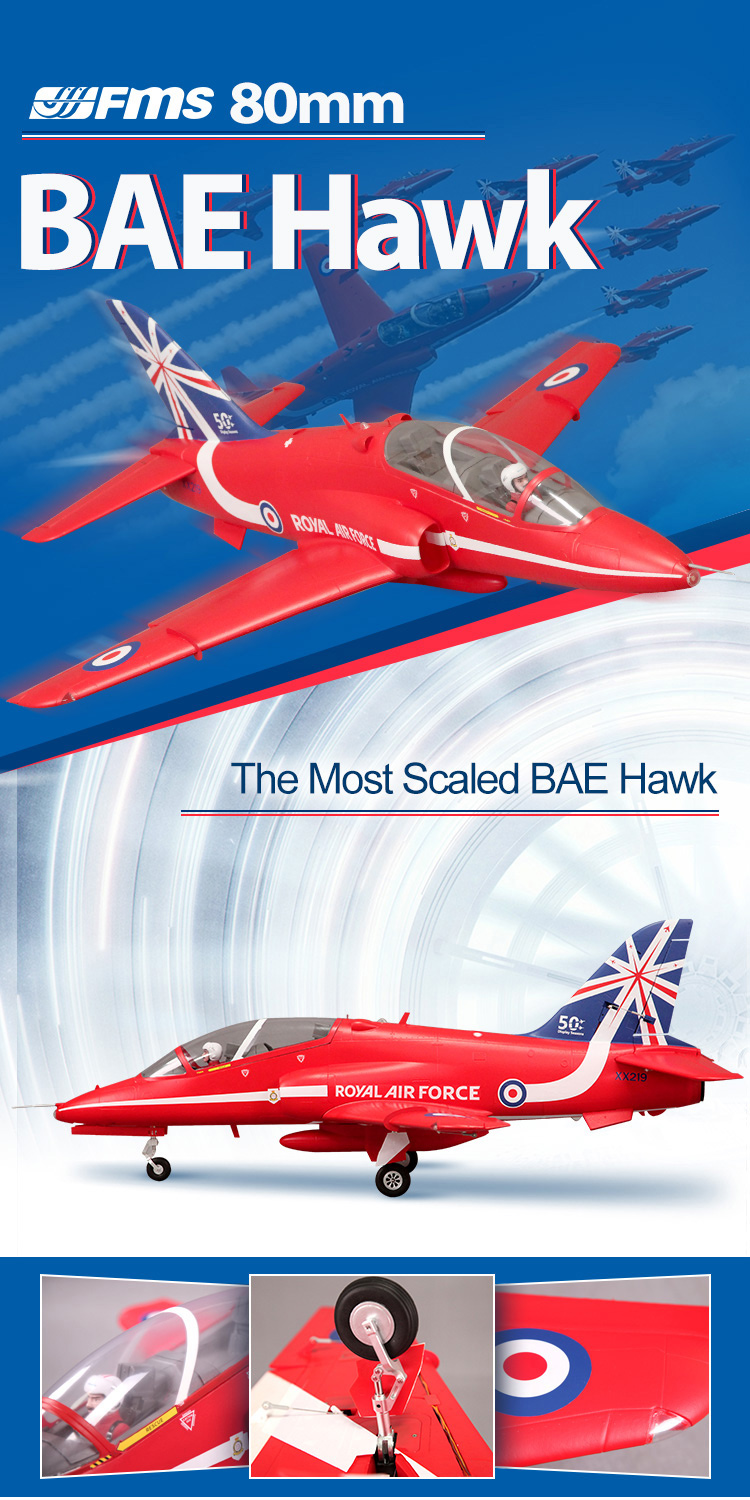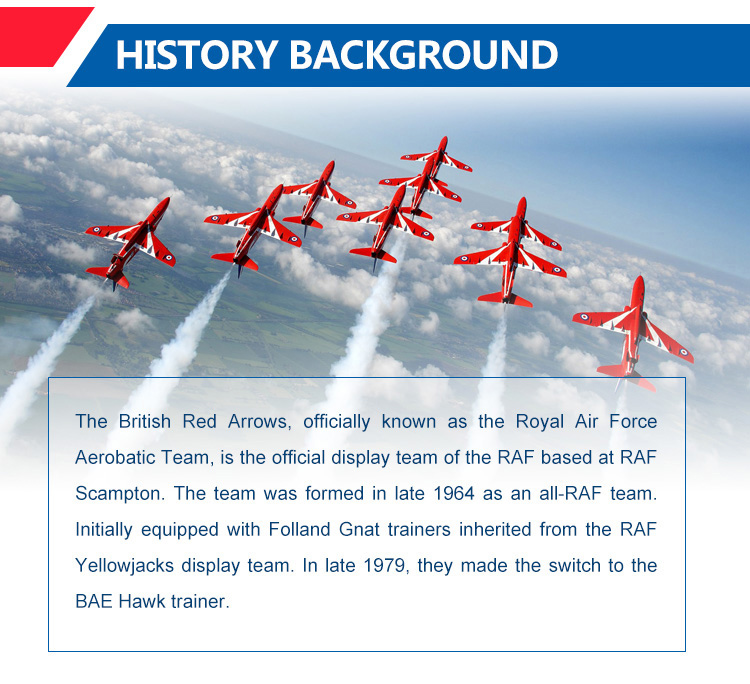 The British Red Arrows, known as the Royal Air Force Aerobatic Team, is the official display team of the RAF and based at RAF Scampton. The team was formed in late 1964 as an all-RAF team and initially equipped with Foland Gnat trainers inherited from the RAF Yellow Jacks display team. The switch to the BAE Systems Hawk T1 weapons trainer came in 1980 and has since performed with distinction at locations around the globe.
Honouring the 50th display season celebration, FMS has created a brilliant replica for the popular 80mm EDF class. Beautifully finished in vibrant red and striking white trim, the outline of the BAE Systems marvel is unmistakable with detail that features a well-appointed cockpit, an array of intake scoops, antenna, bright LED lighting, scale sub-fins and a removable ferry tank. The remarkable undercarriage includes reliable electric movement with durable metal CNC-construction, shock-absorbing actuation with scissor linkages—all neatly concealed with automatic gear door enclosures. The 80mm BAE Hawk flight controls are full featured including functional flaps that help you make take offs shorter and landings as slow as possible. All seven control surfaces plus the nose wheel are individually linked with a dedicated metal-gear micro servo. You'll also appreciate the precision and adjustability of ball-link equipped linkages for initial setup and perhaps later on if flight trimming is necessary.
The FMS 80mm BAE Hawk features a rigid one-piece wing that easily bolts to the fuselage, as do the horizontal stabilizers and vertical tail—no glue required which makes basic assembly super-fast. Of course the lightweight construction with EPO means you can count on a high-level of durability, intricate surface detail and a light wing loading that translates naturally into incredible flight performance. The water-based paint used to finish this model minimizes blistering from sun and provides a vibrant appearance. The power system utilizes a powerful 80mm 12-blade EDF system driven by a 3270-size, 1930Kv brushless motor and 100A ESC combination for tremendous acceleration and speed when coupled with your high-C, 6S LiPo battery. If you want to make every outing to the field an airshow to remember, then the FMS 80mm BAE Hawk is a must-have.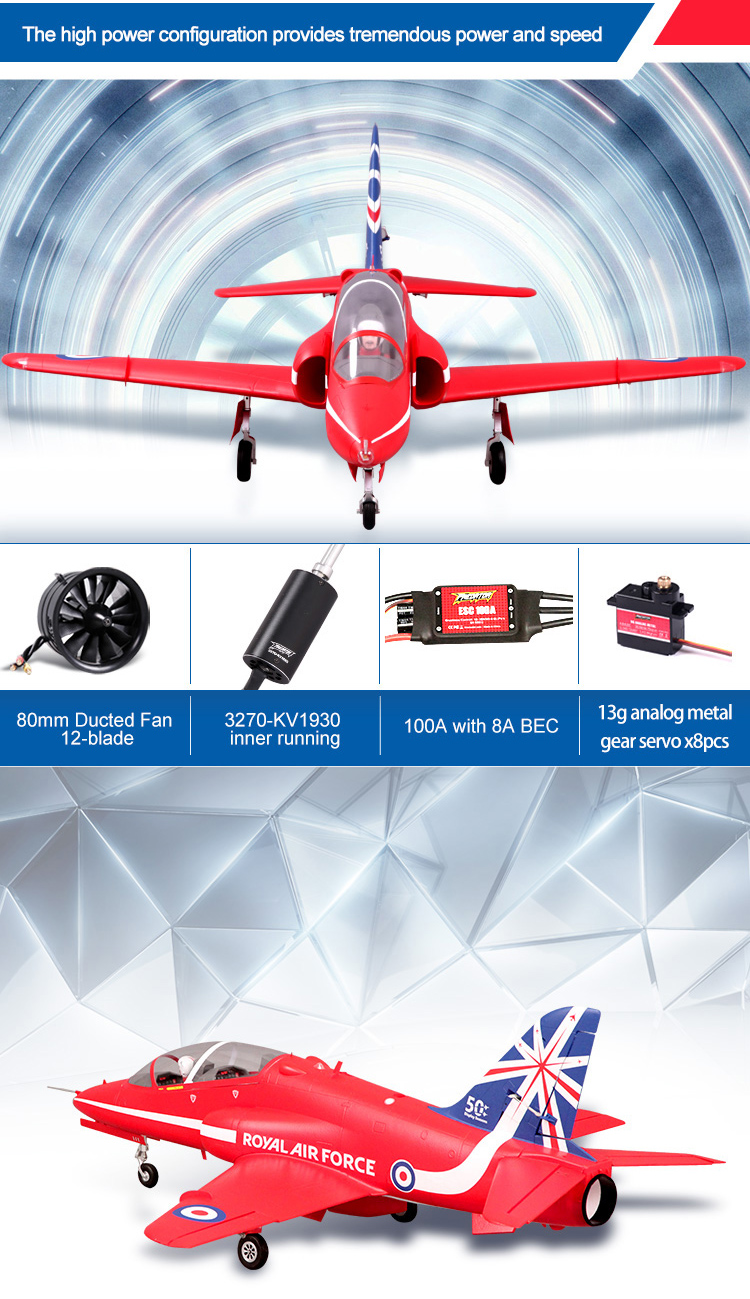 Features
Easy (six-screw) bolt-together assembly-no glue required
80mm EDF with a brushless 3270-size, 1930Kv inrunner motor
High-quality Predator 100A ESC with 8A BEC
Durable, all-metal shock absorbing electric retracts
12-blade EDF sound delivers an enhanced jet experience
6-Channel control with functional flaps and steerable nose wheel
Metal-gear servos provide precision and reliability
Removable one-piece wing with optional ferry tank
New ball-style control horns and linkages for greater precision
Brilliant LED lighting system installed
Vivid trim scheme with environmentally friendly water-based paint
FREE 6 Axis flight control system in the box
Specifications
Wingspan: 1042mm /41.0 in
Flying Weight: Around 2500g
Motor Size: 3270-KV1930 inner running
ESC: 100A with 8A BEC
Recommended Battery: 6S 4000mAh 35C (EC5 Connector)
Battery Connector: EC5
Landing Gear: Grass Ready Shock Absorbing Metal Landing Gear
Required To Complete
Transmitter
Receiver
Battery and Charger

For further information: on flying your RC plane in a safe and responsible manner please check out www.bmfa.org