FMS 1220MM SUPER EZ TRAINER RTF V3 W/FLOATS
Info
FMS 1220MM SUPER EZ TRAINER RTF V3 W/FLOATS
Part Number: FMS078RF
Brand: FMS
Availability:
RRP :

£199.99
Buy via Kibo
Description
FMS 1220MM SUPER EZ TRAINER RTF V3 W/FLOATS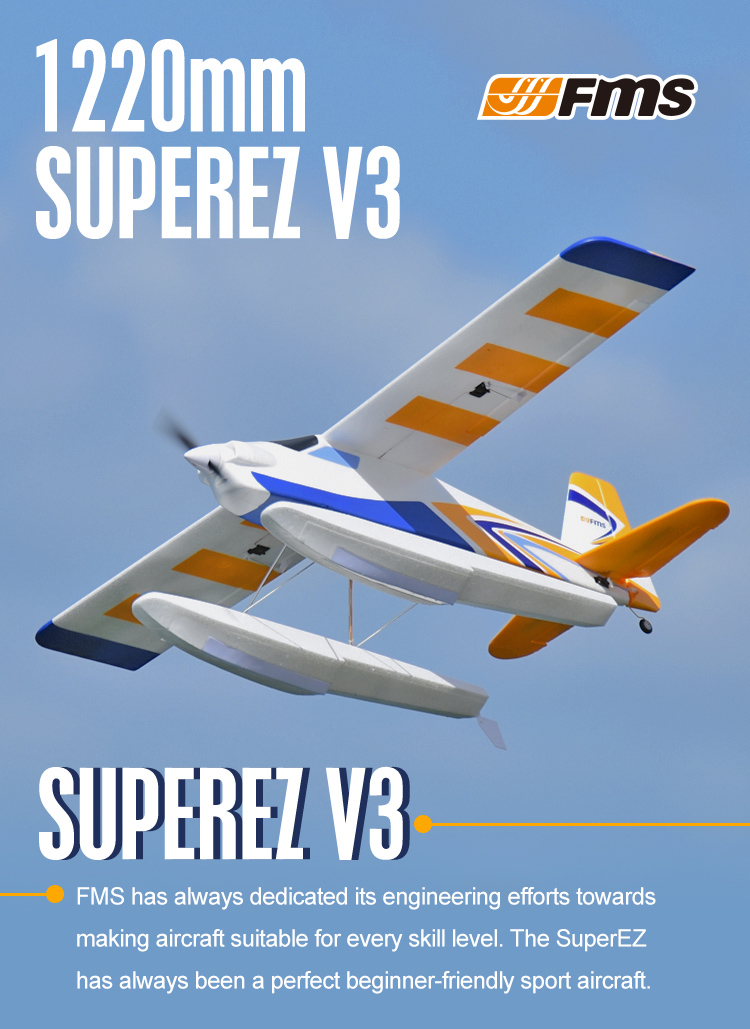 Maintaining all the features of the original Super EZ, FMS introduces the Super EZ V3. Offering an upgraded motor and optional floats the new V3 will enrich your multi-purpose trainer collection. Like the original Super EZ, the V3 allows for very easy and smooth flights showing no need for additional electronic stabilization or advanced radio systems. With the addition of the floats and the waterproof water rudder servo you ready to test out your water flying skills.
Features
Optional float set
High quality XT60 fitted to esc
Upgraded and powered motor
High-quality Waterproof servo
No glue required, screw-together construction
10 minute assembly time
10 seconds quick-release wing, easily portable airframe
3S 1300mAh battery allows for 10 minute flight times
Reasonable price for beginners
This is the Ready to fly version
Specifications
Wingspan 1220MM/ 48.0IN
Overall Length 1020MM/40.2IN
Flying Weight 890G/31.4 OZ
Motor Size 3136-KV1200
ESC 20A
Servo 9G SERVO*4
Radio 4 Channel
CG (center of gravity) 55-65MM
Prop Size 10*5 IN, 2 BLADES
Recommended Battery 11.1V 1300 mAh 25C
Aileron Yes
Elevator Yes
Rudder Yes
Flaps No
Retracts No
Approx. Flying Duration 8 MIN
Minimum Age Recommendation 14+
Experience Level Beginner
Recommended Environment Outdoor
Assembly Time 30 minutes
Is Assembly Required Yes
Material Durable EPO
PNP Requires Radio System, Battery and Charger

KEY:

OUT OF STOCK

VERY LOW STOCK

LOW STOCK

IN STOCK