VOLANTEX EXMITTER 7-CHANNEL RADIO W/LCD SCREEN
Info
VOLANTEX EXMITTER 7-CHANNEL RADIO w/LCD SCREEN
Part Number: EX7
Brand: Volantex
Availability:
User Rating:
RRP :

£69.99
Buy via Kibo
Description
VOLANTEX EXMITTER 7-CHANNEL RADIO w/LCD SCREEN
Volantex's range extends to radios with the new Exmitter EX7 2.4ghz unit. This 7-channel radio features a 6 model memory that can be programmed directly from the in-built digital LCD display. The user friendly three level menu display provides the user with a whole host of adjustability for throttle, ailerons, elevator, rudder, gear as well as aux channels. In addition the wide, lightweight ergonomic design means provides super comfort while in use.

Volantex Exmitter EX7 Features:
Digital Trim
Dual Rate Function
Drone Mode Mix Function Included
Digital LCD Screen
Programmable
Advanced FHSS Technology
600m Range
Lightweight Ergonomic Modern Design
7 Channel Receiver
Failsafe Setting
Low Voltage Alarm
6 Model Memory
End Point Settings
Sub Trim
Mixing Modes (Elevon, V-Tail, DualAile)
Folding Antenna
Requires 4 x AA batteries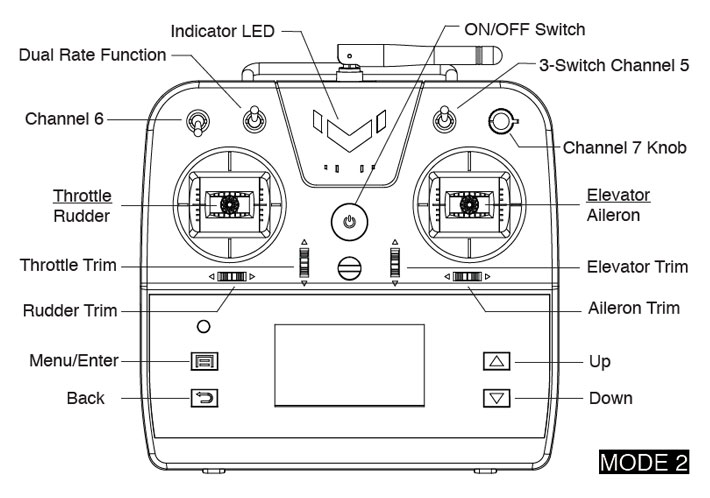 KEY:

OUT OF STOCK

VERY LOW STOCK

LOW STOCK

IN STOCK
Reviews
This product has a rating of


Mr
Please enter your review here. A nice set easy to use, the menus easy to find and adjustments also clear and easy to set. But as usual a couple of niggles. Would have liked a volt meter instead of that v shaped led. I know that there is a battery voltage indication on the screen but its a bit small. A stick centering return spring kit for the left throttle so I can use the set for water and land based models (one should be with the set). You can swap the sticks over but you then transfer the problem to the other right stick. Also with some ESC I have found the throttle stop is hard to get as there seems to be not enough trim adjustment, you have to mess around with sub trims. My old Planet T5 was great for this the manual trims seem to have a lot more movement. But other than that a good radio for the money.