VOLANTEX EXMITTER 6-CHANNEL RADIO
Info
VOLANTEX EXMITTER 6-CHANNEL RADIO
Part Number: EX6
Brand: Volantex
Availability:
User Rating:
RRP :

£49.99
Buy via Kibo
Description
VOLANTEX EXMITTER 6-CHANNEL RADIO
The Exmitter EX6 is the perfect entry level budget radio for all 6 channel or lower applications. Featuring a modern ergonomic lightweight design the EX6 is so comfortable you wont even notice you are holding it.

Volantex Exmitter EX6 Features:
Dual Rate Function
Low Voltage Alarm
Failsafe Setting
Servo Reverse
Elevon Mixing
Auto Pilot Mode
Digital Trims
Folding Antenna
Trainer/Simulator Jack
7 Channel receiver
Requires 4 x AA batteries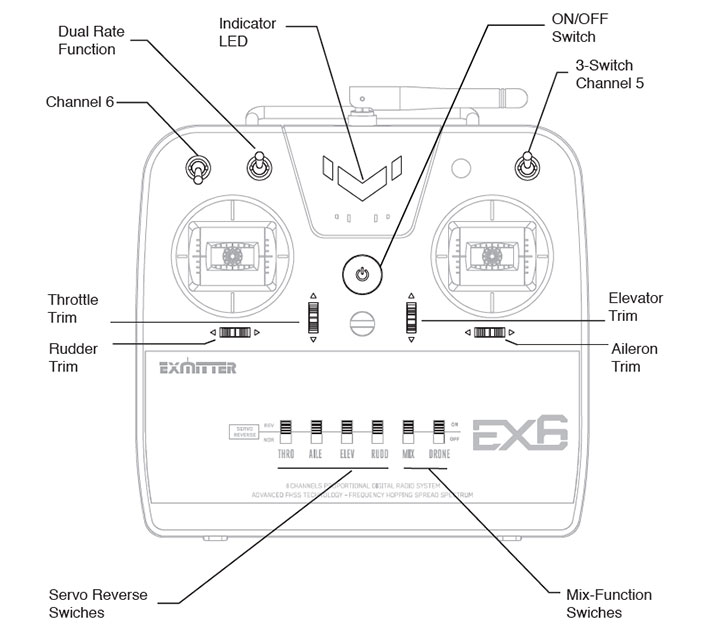 KEY:

OUT OF STOCK

VERY LOW STOCK

LOW STOCK

IN STOCK
Reviews
This product has a rating of


The Volantex Exmitter.6 Ch.
I recently bought this Tx/Rx to fit to my 56inch sloop rigged sailing boat which I built into a motor sailor. She has twin 930kva brushless motors, with contra rotating propellers. Nav lights including a mast head strobe, all run from a 7.2volt nimh Battery. Our lake is larger than a football field at Laytham near York. The performance of my Exmitter is excellent, it is easy to hold & light and the battery life is very good. I am very pleased with both the TX & RX, I would certainly buy with confidence, in fact I have just ordered another receiver to run a model Thames barge !