DYNAM DETRUM 5.8G 200MW VIDEO FPV TRANSMISSION KIT (TX/RX)
Info
DYNAM DETRUM 5.8G 200mW VIDEO FPV TRANSMISSION KIT (TX/RX)
Part Number: DTM-DV58-200
Brand: Dynam
Availability:
RRP :

£69.99
Buy via Kibo
Description
DYNAM DETRUM 5.8G 200mW VIDEO FPV TRANSMISSION KIT (TX/RX)
This is a 5.8GHz 200mW wireless transmitter and receiver kit, which is for synchronous video transmission. It is suitable for first person view (FPV) use. DVT58 200mW is the transmitter and DVR58 is the receiver. There are 48 channels adjustable. Compared with DVT58 25mW, the transmission distance of DVT58 200mW is longer. Compared with DVT58 600mW, DVT58 200mW is smaller and lighter.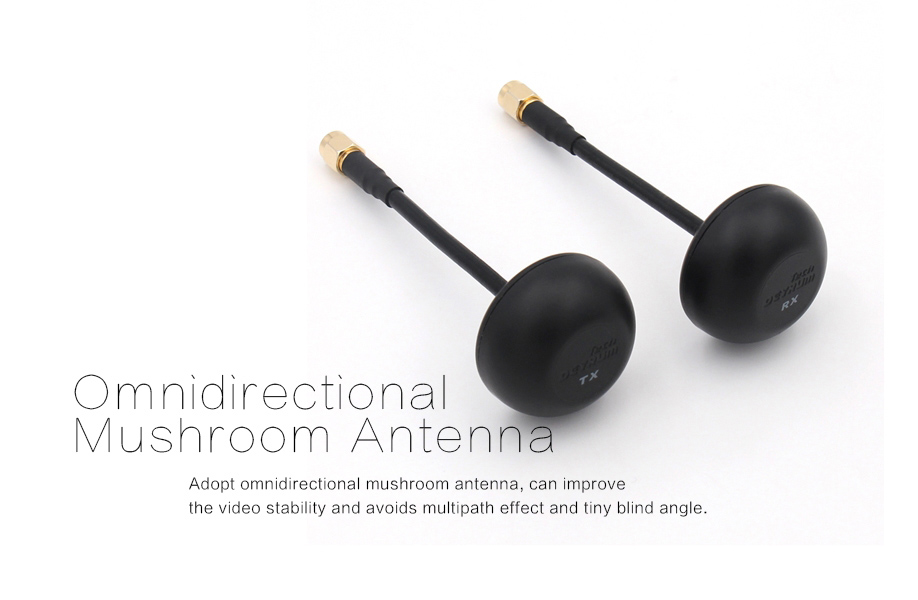 Specification
DVT58 200mW Transmitter
Working Frequency: 5.8GHz ISM
Output Power: 200mW Channel: 48 CH
Input Voltage: DC 7V~17V
Supply Current: 260mA/12V
Antenna Connector: 50Ω SMA
Antenna Gain: 2dBi
Video Input Impedance: 75Ω
Video Band Width: 8MHz
Video Format: NTSC/PAL
Working Temperature: -40~85?
Dimension (L×W×H): 32×21×9mm
Weight: 10g (without antenna)

DVR58 Receiver
Working Frequency: 5.8GHz ISM
Channel: 48 CH
Input Voltage: DC 7V~17V
Supply Current: 80mA/12V
Output Voltage: 12V
Antenna Connector: 50Ω SMA
Antenna Gain: 2dBi
Video Output Impedance: 75Ω
Working Temperature: -40~85?
Dimension (L×W×H): 62.8×45×14.5mm
Weight: 28g (without antenna)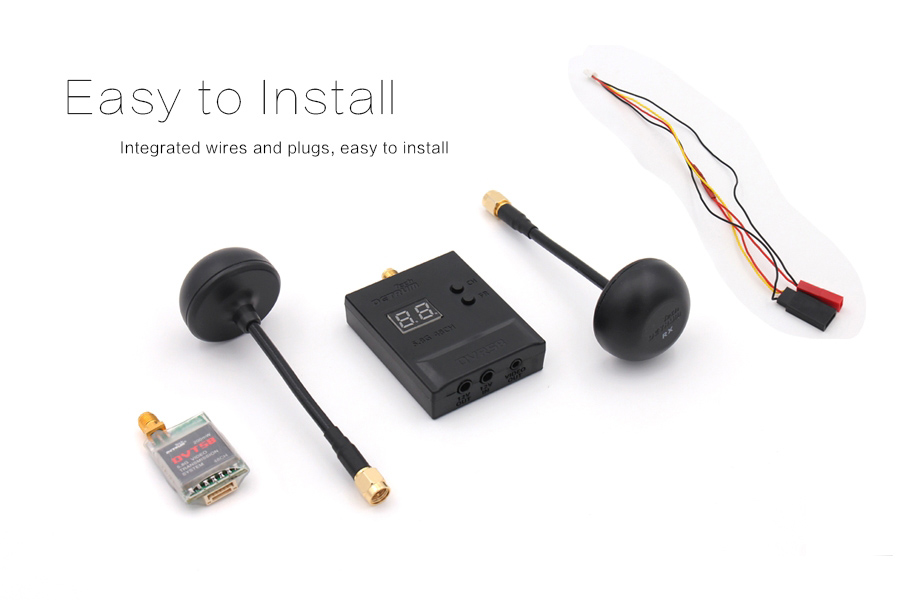 Channel and frequency table
CH

FR

CH

CH1

CH2

CH3

CH4

CH5

CH6

CH7

CH8

FR

FR1

5865MHz

5845MHz

5825MHz

5805MHz

5785MHz

5765MHz

5745MHz

5725MHz

FR2

5733MHz

5752MHz

5771MHz

5790MHz

5809MHz

5828MHz

5847MHz

5866MHz

FR3

5705MHz

5685MHz

5665MHz

5645MHz

5885MHz

5905MHz

5925MHz

5945MHz

FR4

5740MHz

5760MHz

5780MHz

5800MHz

5820MHz

5840MHz

5860MHz

5880MHz

FR5

5658MHz

5695MHz

5732MHz

5769MHz

5806MHz

5843MHz

5882MHz

5917MHz

FR6

5362MHz

5399MHz

5436MHz

5473MHz

5510MHz

5547MHz

5584MHz

5621MHz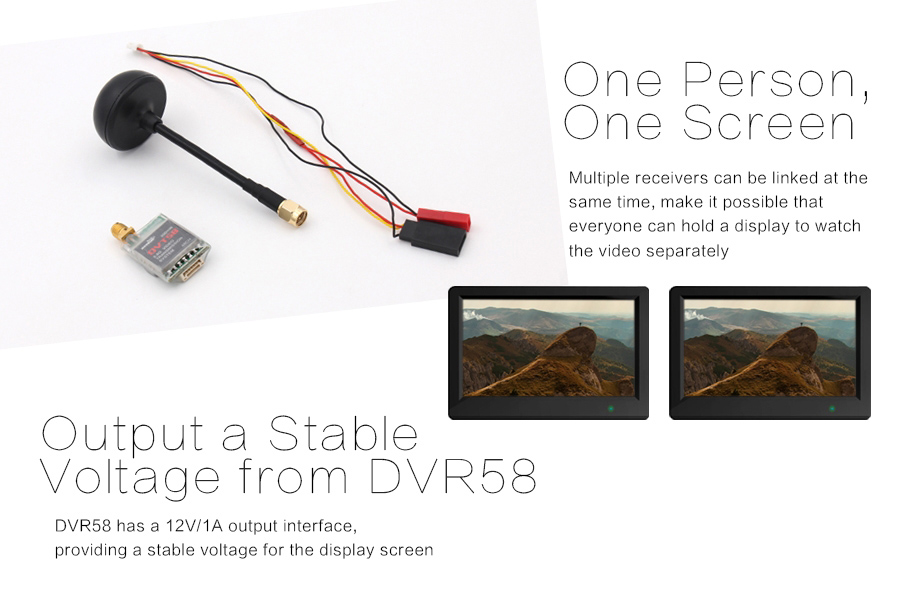 KEY:

OUT OF STOCK

VERY LOW STOCK

LOW STOCK

IN STOCK