TEAM ASSOCIATED HOONICORN APEX 2 RTR 4WD

Team Associated is excited to partner with Hoonigan ® to bring you their world-famous Hoonicorn in radio-controlled form. Built on the new Apex2 chassis, the Team Associated HooniganR Hoonicorn is a tire-slaying beast!
The engineers at Team Associated spent countless hours capturing many of the details synonymous with the 1965 Ford Mustang Hoonigan Hoonicorn. Features including officially licensed American Racing VF503 Wheels, rear diffuser, molded intake and turbos, scale brake rotors, and more!
The Hoonigan Hoonicorn Apex2 chassis is equipped with the latest features for on road racing. A front and rear independent suspension with threaded, oil-filled shocks and active rear toe give the Apex2 the ultimate in handling on an uneven tarmac. This makes it a perfect platform for the Hoonicorn and tire-shredding action!
Hoonigan ®
A person who operates a motor vehicle in an aggressive and unorthodox manner, consisting of, but not limited to, drifting, burnouts, doughnuts, as well as acts of automotive aeronautics. One who hoons.
The 1965 Ford Mustang Hoonicorn RTR V2 (HvW2 spec) builds upon where the original Hoonicorn left off. Taking the car that starred in Gymkhana SEVEN, the team modified the 410 cubic inch Roush Yates Ford V8 heart of the Hoonicorn to now feature a custom twin turbo setup from Garrett that feeds the boost through a custom Sitzer Dynamics intake manifold. The end result? 1,400 horsepower that's fed through the Sadev all-wheel-drive system with paddle shifters. The whole package sits on a set of American Racing VF503 wheels with super sticky Toyo Proxes R888R tires. Designed from the start to take a car that was already crazy and make it absolutely insane!
Ford Motor Company Trademarks and Trade Dress used under license to Associated Electrics Inc.
HOONIGAN Trademarks and Trade Dress used under license to Associated Electrics, Inc.
Features
For better handling, A-arm front and rear independent suspension keeps the Hoonicorn under control during the wildest of driving conditions
Threaded, oil-filled shocks smooth out the bumps when ripping down the tarmac and shredding tires.
Active rear suspension allows the amount of toe change to be adjusted through the suspension cycle, increasing, or decreasing rear grip.
A sealed center driveline keeps dirt and debris out along with bits of tire rubber for smooth and reliable power delivery.
The Apex2 chassis is equipped with metal ring and pinion gears for long-lasting durability that can handle tire-slaying burn-outs.
2.5mm thick G10 chassis ensures that the Hoonicorn continues to "Kill All Tires" regardless of what road debris you may encounter.
Apex2 with licensed 1965 Ford Mustang Hoonigan Hoonicorn and officially licensed American Racing VF503 Wheels
Injection molded brake calipers and rotors
2.4GHz 2-channel radio system
Reedy brushed speed control and 3-pole brushed motor
Water-resistant, enclosed receiver box
Steel dog bones and drive axles
Sealed front and rear gear differentials
Adjustable hook and loop battery straps
Full metal ball bearings
Aluminum motor plate
Adjustable shock mounting locations
Bleeder screws included on shock caps
Bolt-on steering plates
Molded one-piece tie rods and steering links
Adjustable body post height locations
Steel 25T servo horn
2.5mm thick G-10 chassis for increased durability and performance and G10 shock towers
"Shorty" battery box
POM-filled injection molded pivot balls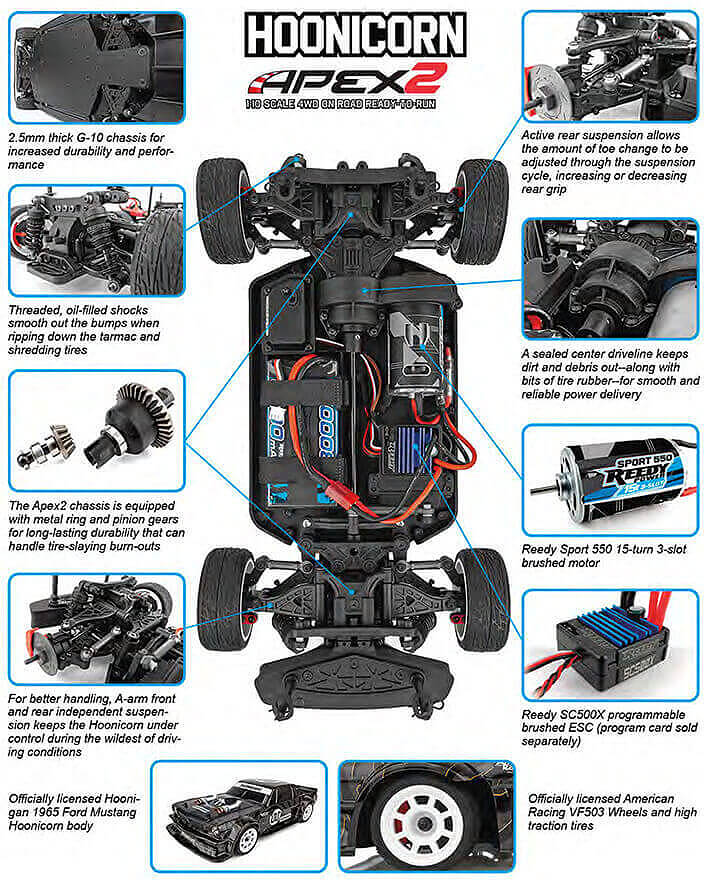 Specifications
Power Source: Electric
Terrain: On-Road
Body Style: Truck
Scale Size: 1:10 Scale
Assembly Level: Ready-To-Run*
Length: 458mm (18.03in)
Width: 200mm (7.87in)
Wheelbase: 259mm (10.2in)
Weight: varies
Internal Gear Ratio: varies
Drive: 4WD
* This vehicle is fully assembled and ready to run right out of the box. Model requires a battery and/or charger.
Required To Complete
LiPo Shorty battery with High Current T-Plug
Charger for battery used