BRCA 1/8th National - Rnd 2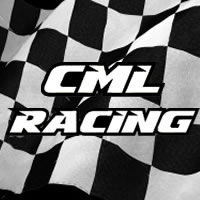 The Tiverton Model Car Club played host the round 2 of the BRCA 1/8th Off Road series and their fast Astroturf track provided a very difficult challenge.
The high speed nature of the circuit, coupled with the very high traction levels on this surface, made for a un-forgiving combination. Mistakes were punished heavily, either by time loss or breakages. The qualifying sessions were also slightly affected by light showers, with the early and middle heats both having a blow out round where the track was too slick for quick times.

The track at Tiverton Model Car Club.
At the end of qualifying it was round 1 winner Elliott Boots who took the pole with 3 round wins and some very impressive runs. Elliott's RB powered car with Savox servos looking fast and consistent, he was a deserved TQ man. Neil Cragg took second on the grid with his RC8B Factory Team with Reedy power. The new evolution of the proven RC8 looking fast and improving as the day went on. Simon Willetts took third just in front of Dave Bailey with his RB/Savox Hobao Hyper 9. Dave's car looked excellent and he was able to turn the fastest laps in qualifying, with only a couple of small errors costing him a higher grid slot.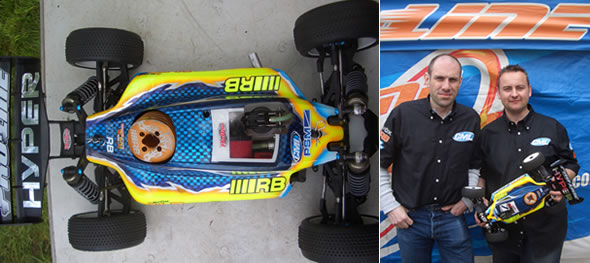 Dave Bailey's Hyper 9 and pictures right with Pit Man Chris Kilroy.
Other CML drivers qualifying direct into the main final were Matt Perry (Hyper 9 RB/Savox), Jon Hazelwood (Hyper 9 Savox) and Lee Martin (RC8B Reedy). With the variable conditions and new track there were a few notable names lower down the TQ list than would be normally expected. The 'C' final was won by Craig Drescher with his Reedy Powered RC8B and also bumping out of that final were Reece Sawyer, Paul Bradby and Richard Taylor.

The 'B' final was won by Darren Bloomfield, whose winning time was nearly a lap slower than that of Craig in the 'C' final, unfortunately Craig broke a turnbuckle preventing him from progressing further. The main final saw an early battle between Elliott and Neil until the first round of stops. After that Elliott started to make a series of errors in trying to keep up with Neil and dropped back into the chasing pack. This left Neil to put the hammer down and build a massive lead which he maintained until the end to record a comfortable victory with the Reedy Powered RC8B. This was the first BRCA victory for the new Reedy motor which should be available to the public shortly. Darren Bloomfield drove a controlled race to take second with Simon Willetts coming third.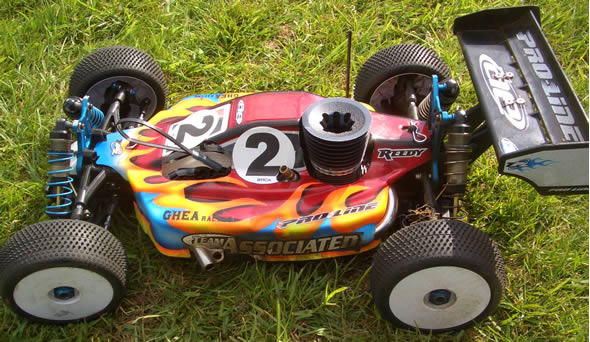 Neil Cragg's RC8B with the new Reedy 121VR Engine.
The next round is the 1-off 2 day event which, this year, is to be held at the Ware track in Hertfordshire and sees the championship return to dirt which most of the drivers prefer.
Facebook