Associated R5 makes European A final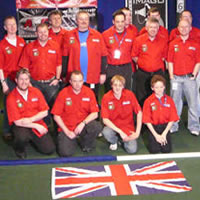 The MACH club in Holland were hosts for the inaugural EFRA 12th Stock (10.5T) European Championships.
The venue had been a car showroom in a former life and provided the racers with all they needed ? plenty of pitting space, on-site caf? and of course a testing track. The layout was compact and utilized every inch of the available space on the brand new carpet. With a very fast lap just scraping under 10 seconds it would provide some intense racing from the assembled field. The British team was slightly smaller than normal, but was still one of the largest teams along with the Dutch and Germans.

The MACH club in Holland pulled out all the stops with this stunning track.
With controlled practice on Friday there was plenty of time to get working on car set up and by the time qualifying got underway the drivers were finding their feet. As expected, competition to make it into the coveted top ten was tough. With the final qualifying list posted, it was the expected battle at the top between former European podium finishers Marc Fischer and Markus Mobers. Also making the A final was CML / Microtech Racing driver Keith Robertson with his Associated R5 in a fine 6th place on the grid.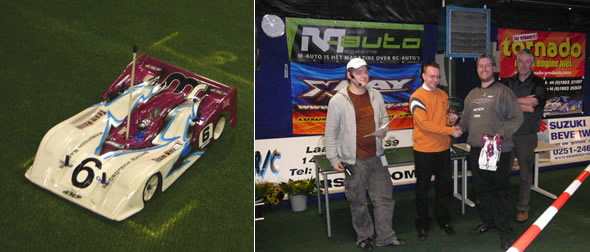 Keith's Associated 12R5 (left). Keith picking up his award (right).
Congratulations go to Marc as he won all 3 legs to take the European title, although Markus kept him honest to claim 2nd with Bart Wubben rounding out the podium in 3rd place. Keith had some close racing to maintain his grid spot in 6th overall after a couple of 5th place results.
Final Standings:
1. Marc Fischer (DE)
2. Markus Mobers (DE)
3. Bart Wubben (NL)
4. Vesa Yli (FI)
5. Olivier Bultynck (BE)
6. Keith Robertson (GB)
7. Hugo van den Berg (NL)
8. Tim Altman (DE)
9. Simon Rubet (FR)
10. Erik Jonk (NL)
To power his R5 Keith used a Novak 10.5t motor and SMC Ener-G cells. And as with another 8 A finalists he had Jaco Prism tyres fitted to his car along with the Black Art Audi bodyshell.
All pictures courtesy of RRCi.
Facebook