BYRON Keeps on Winning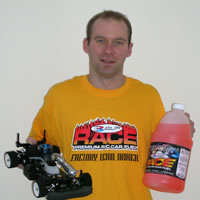 Darren Johnson, using the new Byron Race Gen2 fuel, slaughtered all competition in round 2 of the BRCA 200mm Touring Car Nationals.
The second round took place at the fast flowing Brooklands track in south east England over the weekend, which resulted in a fantastic TQ and A final win for the new Byron Race Gen2 16% fuels. Once again the British weather was not looking good for the weekend, and Saturday proved a washout, on a very cold day, just as the track started to dry it rained again! The race organizers decided to give everyone a much needed, almost dry 10 minute practise heat early on the Sunday morning, the track continued to dry and by round two was starting to get some grip. The sun even made a rare appearance and stayed for most of the day! After a close fought qualifying battle Darren Johnson took TQ less than a second ahead of Robin Hammett, with Kyle Branson in third ahead of Mark Gilliland and Gareth Bell. After a clean start to the final Darren and Robin started to pull out a small gap on third, and with nothing to chose between them on the track the race was going to be decided in the pits! Darren's pit man Alex, did a fantastic first stop which gave him a small gap after the first round of stops, and this enabled him to have some clear track and just make sure of no mistakes. The Brooklands track is very fast and bumpy in places and is very hard to not make mistake. In the last few laps Gareth managed to get by Kyle to get onto the podium. Darren and Stephen both used the new Byron Gen 2 fuel together with Protoform Dodge 3.1 bodyshells.
Final results:
1 Darren Johnson BYRON GEN 2 2 Robin Hammet 3 Gareth Bell 4 Kyle Branson 5 Neal King 6 Stephen Brown BYRON GEN 2 7 Aaron Wearn 8 Adam Walker Catchpole 9 Mark Gilliland 10 Jonathan Dobney
Facebook