TITC 2008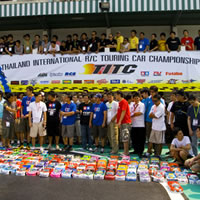 CML team driver John Pape reports back from the Thailand International Touring Car Championship 2008. Read about his awesome experience here...
I left for Thailand late on the 16th of February and after an 11 hour flight it was a relief to finally arrive in Bangkok. Looking through the glass in the airport it was heavily raining, not a good start! Never mind, maybe it was better at the track. So I went in search of a taxi and headed straight to the track, where I hoped to meet up with my team mate Chris Grainger, who arrived earlier the same day. On arriving at the track the first thing I saw was the pit complex, which can only be described as looking like a multi-storey car park. Completely made from concrete and lit it the same dim way. Ample pitting was provided for around 300 people, with mains power and chairs provided to each table. At the front of the building was the hobby shop. I duly met with Chris, friend and ex Yokomo driver Billy Easton and fellow CML driver Craig Drescher. It was then time to check out the track, what can I say, awesome, bigger than I was expecting, the straight I would say is around the same length as Aldershot, with a sweeping corner at the end and a technical infield it was going to be challenge. Especially as I had never driven on track with so much grip.

One amazing looking track!
As it was still light, I decided to get my gear out and have a couple of sighter runs to get a feel for the track. Meanwhile, Chris was running well and already looking competitive. His car was setup exactly as he runs it at home. However, I soon found something on my car wasn?t quite right, so we called it a day and headed back to the hotel for some food and much needed rest. Monday soon came round, and once we arrived at the track I set about sorting my car out, the problem was found to be the diff, so with that changed it was back out on the track to continue to learn the layout. Later on in the day, Yokomo arrived, Masami, Umino, Naoto and Kitigawa, with Zappa arriving Wednesday. They brought with them a car set as per the previous worlds in Italy. Masami was instantly on the pace, amazing to watch him learn the track. His first lap was faster than I?d managed all day, bummer! He did maybe 4 runs before calling it day. It was clear to both me and Chris, they had found something that worked.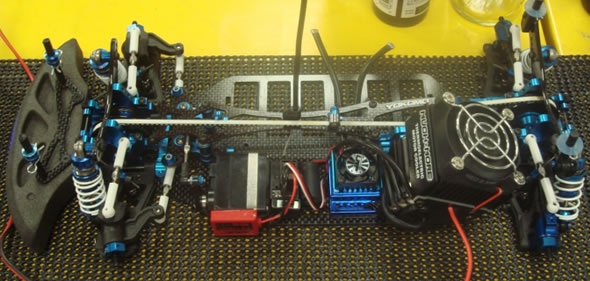 Masami's setup proved useful for John and Chris
Tuesday brought some serious car building for both of us, we both changed to Masami?s setup. It was quicker straight from the box. I was starting to learn the track and do some reasonable lap times. Through Wednesday and Thursday I fine tuned the setup on the car trying some different stuff. Chris, meanwhile started to work back towards his UK setup and seemed to be getting somewhere. Looking very fast and doing some competitive lap times and race times. Umino (Masami?s) mechanic, started to change the setup of the car, working on a completely different setup which seemed to be a cross between the 2 setups we had been using. They were still fast but it was looking like others were starting to bridge the gap, it was going to be close. Friday dawned and we had 1 free practice, followed by 1 controlled practice and 1 qualifying run. During free practice I had major interference and the car hit the boards on the straight popping a camber link and bending a front driveshaft, not a good start. The controlled practice went a little better but I made 2 mistakes. Qualifying 1 went better but due to a poor controlled practice I was in a low heat, and had issues with backmarkers, a sign of things to come! Chris however was doing much better, and was 9th overall in round 1.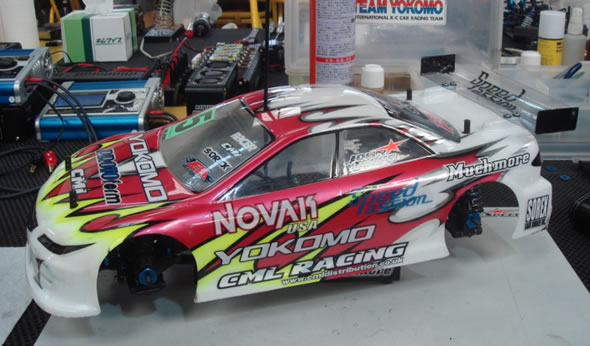 John's Yokomo MR4-BD Touring Car
Saturday, we had 3 more qualifying runs. I decided to copy Chris?s setup so that meant alot of car building before I could run. Due to time constraints I ran out of time to check my bodyshell for legality so I hoped that is was legal (it was when I checked it earlier on in the week, on the other setup). I had a good run, only to find that my wing was a bit big, still, it amused Masami! I lost that time. Round 3 and with the wing adjusted I battled through the heat again, only to find that the car was 2 grams underweight (man! Do I have no luck when I race abroad!), so I lost that time. In round 4, with the weight now adjusted! I battled through again, and finally posted a time, albeit, with being taking out by back markers a number of times. Chris was really flying and had done a 6th fastest time in round 2, narrowly missing TQ. In round 3 he had a tyre issue, which ending up spinning his car round and the unfortunate Ronald Volker hit him, breaking a castor block. With that fixed he resumed in round 4, posting a 6th fastest time in the round. With round by round qualifying, best 3 from 5, he was looking good for the top ten. Masami meanwhile was in danger of not making the final, Naoto was looking fast at times, and Zappa was struggling a little, maybe rueing, coming too late.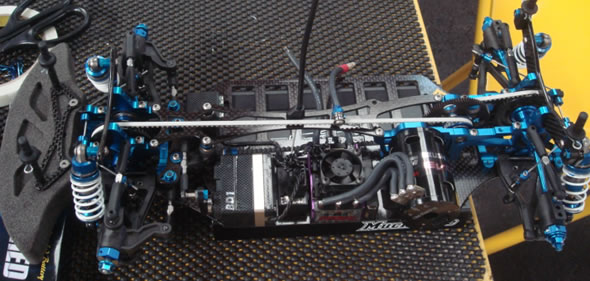 Chris' Yokomo MR4-BD 'Grainger Edition' Touring Car
Sunday, last day, we had 1 more qualifying run and then finals, I was determined to try and show what I could do so I went out with a mission, I had a good run, only being taken out once by backmarkers, I managed to post a 41st time in that round, not bad, considering! Chris had a solid run, 14th in that round which didn?t affect his overall position. Chris ended up qualifying 8th in the A final, with Masami in 9th and Naoto 10th. Making it 3 Yokomo?s in the final. Very well done Chris, TOP Yokomo! I myself, well, it was not good, with scores of 60, 80 and 114 counting, it was never going to be good, let?s just say I qualified 7th in my final. Chris was first up; he got a very good start and was running a solid 5th place before an ambitious overtaking move from someone behind relegated him down the order. He battled on though, eventually finishing 8th. Next it was my final, I got away clean and worked my way up to the leader, and after pressuring him, he made a mistake so I took up the lead. I then proceeded to work my way round backmarkers, and true to form, whilst lapping someone he took me off and broke the car. Meaning I finished 7th, it just about summed the meeting up for me. Chris was next up, for leg 2, he had a clean start and although he had a quiet race, ended up finishing 5th, beating his teammates Masami and Naoto. He superbly overtook Masami in this leg, a great piece of driving. So, we moved onto the last race of the day, again Chris came through and finished 5th. Amazingly he finished level on points with Hara and Naoto, with Naoto getting the nod followed by Hara and then Chris. Meaning he was 7th. We then packed our stuff and headed home, leaving behind a fantastic event and facility. The RCS track will be holding the world championships in November so I look forward to returning. Many congratulations Teemu Leino for winning the meeting. I wish to thank Yokomo (Umino, Masami and Zappa) for their help and support, also my team mate Chris Grainger for his setup help. Very well done!
Facebook