Now In Stock - Carisma GT24T & GT24TR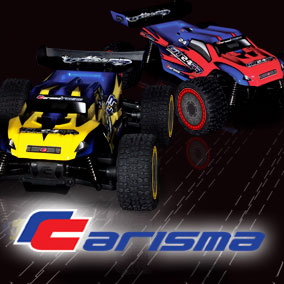 These two new 1/24th scale micro racers from Carisma pack a huge punch for their size. Available in truck or truggy format.
The GT24TR from Carisma is a 1/24-scale RC Truggy that comes with an 8000Kv brushless motor and four wheel drivetrain. It features a friction damper, rubber tyres and screen-printed body shell and wings.
The servo is very fast and the car comes with full ball bearings and plastic gear differentials. The GT24T & TR comes ready-to-run with a 500mAh 1S 3.7V LiPo battery and USB charger. You will also receive a small phillips head screwdriver, spare pinion gears and spur gears and four AA batteries for the transmitter. This is one fun-filled RC car.

Also new is this small-scale monster truck - the GT24T from Carisma. This vehicle is a 1/24-scale, micro monster truck that is available in a ready-to-run (RTR) configuration. Carisma is no stranger to the world of micro and mini radio-controlled cars and trucks. Their GT24 lineup includes a rally car, truggy, buggy, and now a monster truck. Each individual machine is equipped with some impressive features, and the GT24T is no exception.

Powered by a 8000KV brushless motor, the GT24T & TR aren't lacking for "get up and go". Rubber tyres provide the grip needed to launch off of jumps and overcome obstacles, no matter what environment you are in. A 3.7V, 500mAH, 1S LiPo battery is the fuel source for this small-scale basher, which is another pleasant surprise, given the "micro" label on this RC racer.
Rounding out the electronics aspect, a Carisma CTX8000 2.4GHz radio system controls these mini machines, eliminating worry of interference. Other features include friction shocks, a quick and responsive steering servo, and USB charger. From the office to the parking lot, this is a compact RC truck that can provide you with hours of entertainment.
Facebook