The RR10 Bomber build-it-yourself kit is loaded with features allowing you to customize it and add your own electronics for the ultimate rock racer! Building on the current, successful ready-to-run model, this kit version includes a wide variety of desirable option parts that deliver next level performance and durability. Hard anodized aluminium suspension links, hard anodized aluminium steering links, long travel rear sway bar, hardened steel universal axles allowing up to 50 degrees of steering, aluminium lower link plates, and King adjustable machined aluminium shocks, all riding on sticky BFGoodrich® Baja T/A® KR2 tires wrapped around 2.2 Walker Evans Racing beadlock wheels. We've also included heavy duty bevel gears in the front and rear axles for improved gear mesh, and increased strength.
Realistic scale details include moulded driver figures, three pairs of helmets, moulded shock reservoirs, a fuel cell, Bomber Fabrication body panels, two full colour decal sheets with enough graphics for two completely unique looks, and a fully licensed scale tube chassis.
---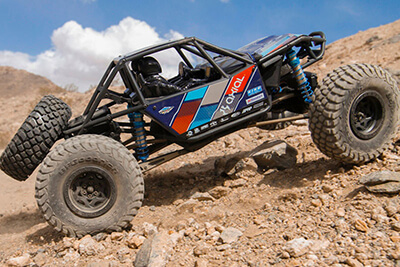 Axial RR10 Bomber 1/10th 4WD Kit
The Axial RR10 Bomber 1/10th 4WD Kit is built to be tough, with added aluminium parts, King adjustable machined shocks and long travel suspension there are not many places the RR10 cannot go.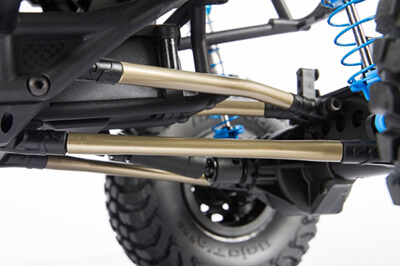 Axial RR10 Bomber 1/10th 4WD Kit Hard Anodised Links
The upper and lower suspension links as well as the steering tie rod and drag link are machined from aluminium to reduce flex and provide precise control over the roughest terrain. The tubes are threaded at both ends for easy assembly and they use larger and stronger M4 hardware.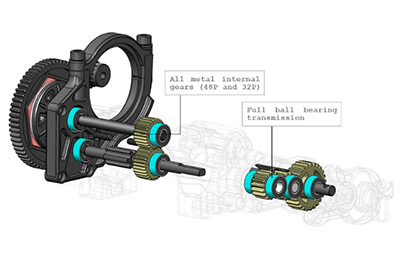 Axial RR10 Bomber 1/10th 4WD Kit Hi-Lo Gearbox
With all metal internal gears, this full ball bearing transmission has the strength to endure the harshest rock racing environment. The factory gearbox comes as a single speed with the high gear installed for high speed fun. The integrated motor mount features a wide range of movement for endless gearing options. Our dual slipper design uses a pad on each side of the spur gear for added surface area. This allows for more precise tuning and holding power. The spur gear features strong, 32 pitch gearing for high torque applications.
NOTE: optional two-speed transmission component sold separately (AX31181).

Axial 2.2 Walker Evans Racing Beadlock Wheels and BFGoodrich Baja T/A KR2 Tires
The officially licensed Walker Evans Racing beadlock wheels are dressed in an aggressive all black style and they work with most 2.2 tires. The Axial IFD™ (Interchangeable Face Design) wheel system makes it easy to dress it up with a new look. The wheel design allows you to vary the amount of air passing through the breather holes. You can select between having one, two or three open holes (two, four or six total) by rotating the inner (beadlock) ring, the position is then locked with reassembly.
In the full-size world of off-road racing, BFGoodrich® tires have proven to be the 'go-to' tire for numerous racing victories, Axial's version of this tire captures the same aggressive look and provides remarkable performance on a wide variety of surfaces. Even in the most difficult off-road terrain this is the perfect tire for this style of vehicle due to its high level of performance and diversity.
---
Axial RR10 Bomber Kit Features:
Hard anodized machined aluminium steering links
Hard anodized machined aluminium threaded links
King adjustable machined aluminium shocks
Aluminium lower link plates
WB8 HD Wildboar driveshafts, front and rear
Multiple shock/link points and dual shear shock mounts
AR60 OCP-axle
BFGoodrich Baja t/a KR2 tyres (r35 compound)
2.2 Walker Evans racing beadlock wheels
Forward mounted easy access battery tray
Easy access to electronic components
Brushless ready hi-lo transmission and dual slipper clutch
Heavy duty bevel gear set - 38t/13t (front and rear)
Waterproof receiver box
Dual slipper clutch
Spare tyre and mount
Long travel rear sway bar
Universal axles
Stronger steering knuckles
Optimized driveline efficiency
Realistic scale details
Spec Check:
Length: 22.4" (570mm)
Width: 11" (280mm)
Height: 9" (230mm)
Wheelbase: 14.75" (375mm)
Ground Clearance: 2.8" (72mm)
Weight: 6.25lbs (2.83kg)
Please Note: This kit in sold in Kit format and requires a radio system, ESC, motor, steering servo, paint, battery, charger, and 4 x AA batteries for completion