Axial R/C Inc. is extremely pleased to announce the Axial Jeep Wrangler Wraith-Poison Spyder Rock Racer. Based on a long standing relationship between Axial, Jeep and Poison Spyder, this Jeep Wrangler Wraith is the culmination of efforts between these three iconic off road lifestyle brands.
Ultra4 Racing combines the best of both off road racing worlds including high speed desert action and hard core rock racing. The Axial Jeep Wrangler Wraith appeals to fans of this event series because it offers some of the same spectacular abilities. Featuring a full tubular chassis and a detailed interior just like the full size counterparts, the realism offered by this vehicle is second to none. The livery is a virtual replica of the amazing machine that the talented crew at Poison Spyder Racing have constructed just for the Ultra4 series.
---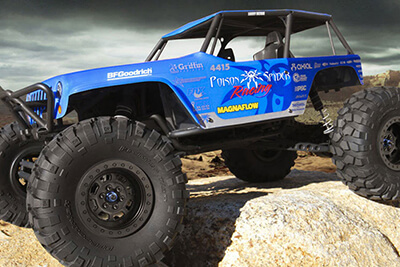 Axial Wraith-Poison Spyder Rock Racer
The Jeep® Wrangler Wraith™ is ready for rock spitting, dirt slinging, action. It's designed to tackle the rocks with ease and blast across open desert at full attack speed. Featuring differential lockers front, centre and rear just like its full size counterpart the Wraith™ is tough as nails and the bottom line, there isn't anywhere you can't take this rock racing machine!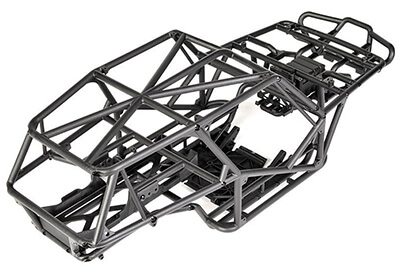 Axial Wraith-Poison Spyder Full Tube Frame Composite Chassis
The Jeep® Wrangler Wraith™ - Poison Spyder 1/10th Scale Electric 4WD Rock Racer features a realistic full tube-frame chassis design that is manufactured with high strength composite materials. Our high strength composite plastic is impact resistant to help protect the Wraith from crash damage. The Wraith™ IS BUILT TO GO FAST and is not just a low speed rock crawler.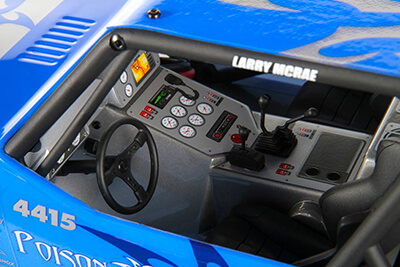 Axial Wraith-Poison Spyder Realistic Scale Details
The Wraith is packed with a variety of realistic details like a steering wheel, shifters, a moulded polycarbonate interior, moulded seats and a full roll cage moulded in tough nylon injected plastic for durability.

Axial Beadlock Wheels and BFGoodrich Tyres
Officially licensed Trail Ready HD Series beadlock wheels dressed in an aggressive all black style are easy to assemble and they work with most 2.2 tires. The IFD™ (Interchangeable Face Design) wheel system makes it easy to dress it up with a new look. Serrated wheel nuts provide plenty of bite to keep the wheel securely in place and they're anodized blue for great looks, if that's not enough the Officially licensed BFGoodrich Krawler™ T/A® KX tires will help the Wraith over any terrain. The Axial version captures the same aggressive look you've been waiting for in a durable high mileage S40 compound.
---
Axial Wraith-Poison Spyder ARTR Features:
Full Tube Frame Composite Chassis
4-Link Front and Rear Suspension
Heavy Duty Diff Locks
Adjustable Slipper Clutch
WB8 Wild boar Driveshafts
Trail Ready HD Series Beadlock Wheels
BF Goodrich Krawler T/A® KX tyres
Durable Skid Plate
2.4gHz 2 Channel Radio
AS-3 Digital Servo
AE-2 Speed Controller Forward / Reverse Drag Brake
2S LiPo cutoff
20T, 540/550 Size Motor
Spec Check:
Length: 489mm
Width: 285mm
Height: 232mm
Wheelbase: 355mm
Ground Clearance:71.6mm
Weight: 5.45lbs (2.47kg)
Required for completion: 4xAA Batteries, 7.2v Stick Pack Battery (2S LiPo or 6 cell NiMH), Battery Charger.