Fastrax Summer Series - Round 5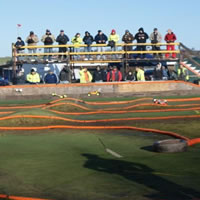 Iain McCallum reports back from the penultimate round of the Fastrax Summer Series at the home of Stoke Nitro Car Club.
A big thanks to John Clay of ?Clays Corner? for writing the last report as I was sunning myself in Spain ( I did think of coming home early, but only for a millisecond ). No truggy pro meeting on this time so I am pleased to report a very good turnout in this class, and the meeting in general with some fast drivers coming to join the fun. Buggy Class Early pace setters in buggy on the bone dry track where Mark Redmond, Ian Boushear and Mick Butler, all posting decent eight lap first round times along with Darren Wood and Andy Friar. Mark was top of the pile a good twenty seconds ahead of the field. A time so good that no one including Mark would beat it for the rest of the day. Round 2 saw improvement to Mick?s time but not his position with Darren taking third spot from Ian with an impressive looking RC8B. Round 3 saw everyone chasing Mark?s time but, as stated, no one could catch him, leaving the top four unchanged. Jamie Brown dropped in a belting third run to take fifth on the grid from Andy Friar. Round 4 saw a mental moment from all of the top fifteen except Ash Haynes who had had a mad previous three qualifiers! He had a storming run making no mistakes to take seventh on the grid from a whopping twenty-first! Everyone else seemed hell bent on seeing how many times they could roll their car in the time allotted with a toss up between Dean Haynes, Jamie Skelton and John Clay with Dean winning by maybe a roll. The finals then lined up with Mark on pole, Mick second, Darren third and Ian fourth. At the off all drivers got away cleanly with NO first corner pile up at all. Mark was across the line first and he stayed there untroubled for the whole race finishing two laps clear of the field and setting up a tight finish on finals day with any one of four who could take the series. Mick Butler had a bad first lap allowing Ian to come over in second place some way clear of the field and like Mark ran a perfect race to come home second again untroubled a lap clear of the rest but with not quite enough pace to trouble the leader. Third was where the race was at with Ash Haynes and Andy Friar having a cracking duel for the full twenty two minutes of the final. They swapped the lead four times and were never more than a couple of seconds apart until Andy made an error on the penultimate lap to give Ash third spot by fifteen seconds with an average lap time for the race only five hundredths quicker than Andy. The Buggy C final was won by Dean Haynes, with Nathan Pendlebury also getting a bump up for finishing second. Buggy B was dominated by Kev Mac and John Clay, both with Associated cars, after a retirement from pole man Steve Carrigan who had engine problems.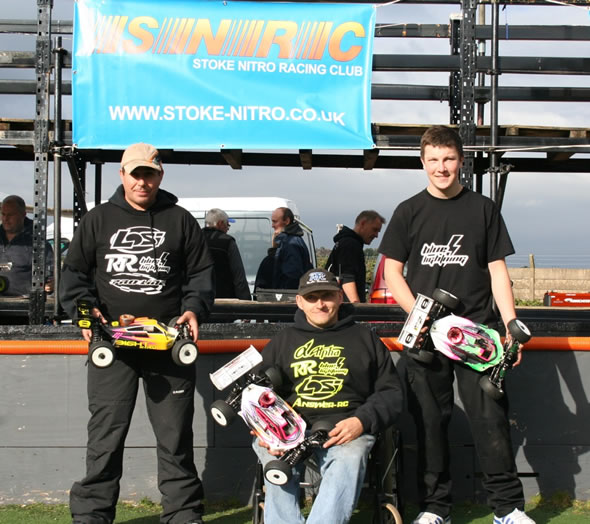 Truggy Class The Truggy class is a lot of fun and I can see why it is so popular at the moment. It offers very close racing with big trucks, big engines and lots of air time which produces lots of laughs. The people who do it seem not to take it too seriously and although it is competitive it?s all smiles all the time, reminding me why we do this in the first place. Round 1 saw top spot taken by Karl Dixon with ?Big? Phil Turner coming in second and Kev Mac third. Round 2 was all change with Sean Bailey knocking thirteen seconds of the top qualifying run to come home first. Darren Hughes moved from seventh to second pushing Karl down to third. All truggy drivers who finished the run where only thirty seconds apart, the whole field split by just ONE lap. Round 3 saw Karl nick a place to go up to second from Sean, again on pole with no improvement, this pushed Darren down to third. The 4th and final qualifier saw both Karl and Darren improve but not by enough to topple Sean from top spot with his mighty Associated RC8T. The finals saw a good start off the grid by Kev Mac which pushed him up to second on lap one, just behind Karl and just ahead of Sean. Unfortunately back marker disease took hold and he got ?took out? to hand second to Sean and a right royal battle commenced. The two top guys fought it out for the whole final with Karl making the first mistake on lap thirteen to give the lead to Sean who then drove with nerves of steel to hold on and take the win although he did have to survive some spectacular overtaking moves from Karl as the pair were very close for the whole final. Darren Hughes brought another RC8T home in third from Stuart Mckellar who battled well to finish in fourth. Any one of six people can now win the truggy series with the Associated driven by four of them.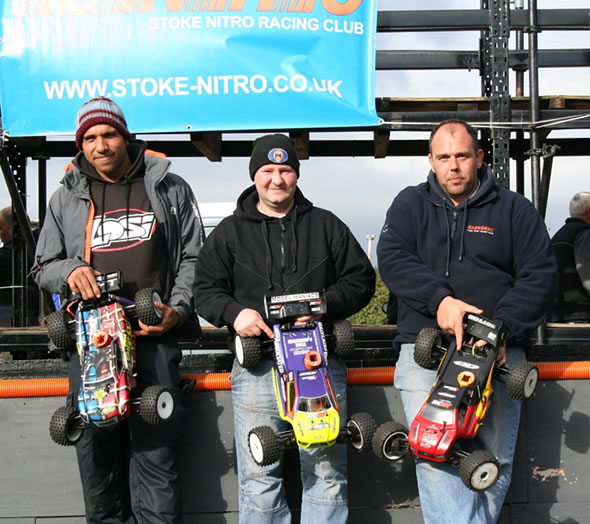 We await the finals day on October 10th with much excitement. Well done to all winners on the day and thanks to Jarred for a cracking meeting as always. Please come and see why I rave so much about the venue and the racing, I lost my voice from laughing so much (some say that?s a good thing). Fun is the name of the hobby at Stoke Nitro and all are welcome to come and have a laugh.
Iain McCallum
Facebook