Olly?s 1:12 Blog - Part 3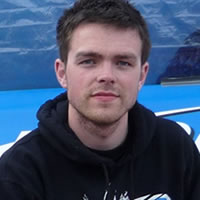 CML and Team Associated driver Olly Jefferies shares his experiences in 1/12th scale racing over the weekend and talks about making the jump to Lipo power.
Due to the fact it was the first win for a Lipo powered modified car my victory at Newbury has been well documented and I have to say from a personal point of view it was a very pleasing win. A lot has been made of the fact I used LiPo, some saying my car was really quick, but there was more to it than just pace. So why go the LiPo route? Well necessity really. I was short on high run time cells and it seemed a natural direction to take, plus sometimes taking a different approach can cause the opposition to take their eye off the ball a little as they are looking over your shoulder at what you are doing to a certain degree. I also suffered at round one of the nationals at Crewe and let a win slip through my fingers when a cell failed in the pack I was using. If I am going to be a contender for this years title I can't afford to throw points away like that. Luckily the likely contenders for this years title Andy Moore and Elliott Harper were missing at Crewe so it was not that much of a disaster. However, I did loose ground to other front runners such as Andy Griffiths and Chris Kerswell, so coming into Newbury I did feel a little on the back foot.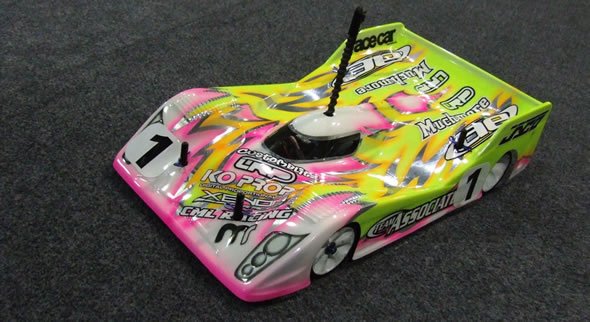 Olly's Associated 12R5 with the Protoform AMR-12 bodyshell.
Saturday and Pro Stock, not my favourite formula but a good chance to work on set up and to dial myself in. I was quickest in the first two rounds of qualifying but as the grip level came up I had dropped to fifth by the end of qualifying. My car still felt good and I was confident of a good run in the A final, that was until I got tipped off on the first lap! After that I spent eight minutes trying to make up the ground lost on lap one, I eventually finished fourth, a reasonable score to go with my third at Crewe. Sunday and straight away my confidence was boosted by a good run in controlled practice, my pace certainly had the rest of the field talking, Andy Moore also went the LiPo route but his car did not looked as dialled as my R5. I was able to control from the front both in qualifying and in the final. Like I said this was a very pleasing win. I sometimes find 1:12 racing frustrating as I feel the class does not really suit my driving style. One of the reason I am doing 1:12 is to try and explore and understand more about the way I drive, also if I can win as well, that just makes the whole process more rewarding.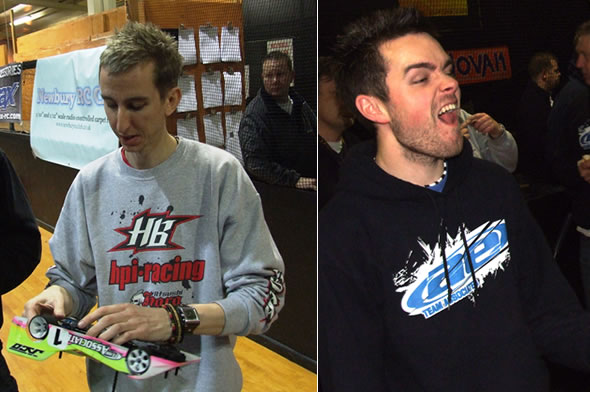 Andy Moore cops a free feel (left) while Olly does some strange winning dance (right).
So let?s take a look at what I did to the R5 to make it more LiPo friendly at Newbury. Firstly I have to say that running LiPo in the R5 is how it is designed to be. The car was developed with LiPo in mind and my American sponsors can?t believe we still use the car with cells, so there was a lot of documented help already there available from the guys in the States. I didn't have to change much to get the car good; I had to fit a receiver pack to help with the lower voltage. I also changed my motor. With 4 cell I use a 5.0 or a 5.5. I used a 4.5 with Lipo but I am planning to use a 4.0 at Tamworth as I feel I have improved my Lipo car since Newbury. Set up is not a big change, when using LiPo batteries you can generally run softer set up. I also switched bodyshell to the Protoform instead of the Parma. This body seems better for LiPo and of a lighter weight. I have also spoken in previous blogs about tyre size. For Newbury I ran much smaller than Crewe, at Crewe I ran 46mm rear and 44 mm fronts. I went to 43mm rear and 42mm front. This helped the car rotate much better, it also helped the car not to traction roll which some of the others did. When running with smaller tyres double check that the tyre is stuck down to the wheel. I noticed on a few tyres the edges lifted slightly. This is easily fixed with some super glue. It's best to check this before you run.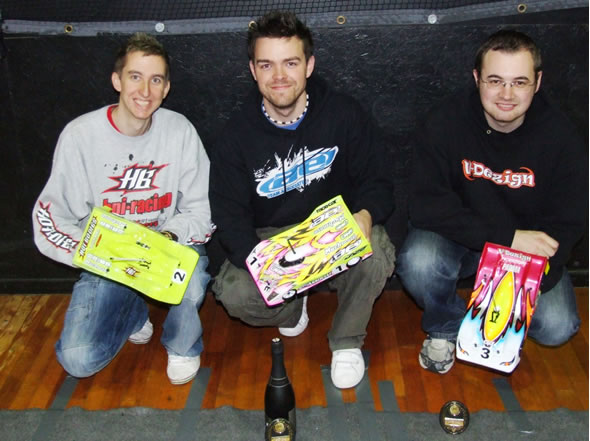 Olly looking pleased after his victory over some tough competition.
I feel since Newbury I have learnt way more about LiPo and hopefully I will have more speed for round 3. I think it's possible some of the other drivers will be running LiPo so I'm well pleased I have found some extra pace.
Facebook