New - Pro-Line V3 Revolution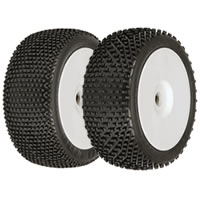 Get ready to experience a new breed of buggy wheels & tyres with the new V3 range from current 1/8th World Champions Pro-Line Racing.
Pro-Line?s Velocity V3 wheels are designed to give you added options while increasing overall traction, stability and tire life to your 1/8th buggy. Nearly 5mm wider then V2 wheels, they allow your buggy to transfer around corners more consistently and in a straighter line over the roughest parts of the track. The width of the wheel has been extended towards the inner part of the wheel, or center of the buggy, so track width integrity has been maintained.

Combine the new V3 wheels with either the 2008 World Championship winning Pro-Line Revolver V3 Tyre or the 2006 World Championship winning Pro-Line Bow-Tie V3 Tyre for all-out domiantion of your local race track. The V3 tyre is 4.6mm wider then standard tyres. The added width creates a larger surface, giving more traction to the wheels. Not only do the additional knobs create more traction but they also proven to make the tyre last longer! Be in control of your 1/8th buggy with Pro-Line?s new V3 wheels & tyres.
Facebook