CML Nitro Winter Champs - Rnd 2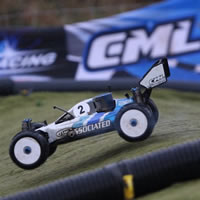 The 2nd round of the CML Nitro Winter Champs was run in wet conditions over the weekend, proving the advantage of running on astroturf.
In qualifying it was Team Associated's new star Elliott Boots who drove his RB powered RC8 to pole postition with a time some 5 seconds quicker than the field. Hobao driver Dave Bailey took his RB powered Hyper 8.5 to 2nd with Simon Willetts in 3rd.

In the main final Elliott got away from pole poistion well but it was clear that the set up change he made was not suited to the conditions and he was fighting to keep the car in check. From mid grid Lee Martin had cut through the field with his RC8 and was soon challenging Elliott. Lee's set up was obviously better and soon he was past and building a big lead. Lee maintained a fantastic pace right to the flag and easily won in front Simon Willetts and a strong finishing Jon Howells with his Picco powered Hyper 8.5 You can download Lee's winning setup sheet
here
.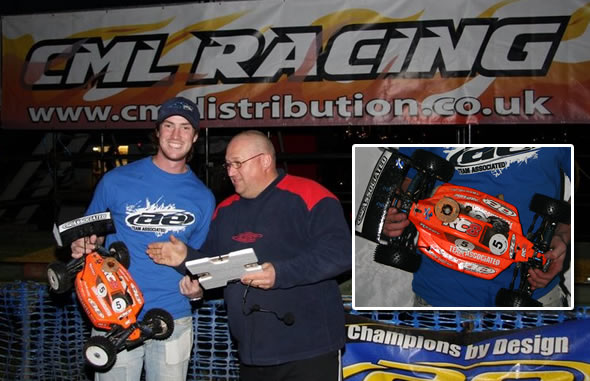 RESULTS
A Final
1 Lee Martin 2 Simon Willetts 3 Jon Howells 4 Bruce Thompson 5 Matthew Lewis 6 John Jolmes 7 Steve Haynes 8 David Bailey 9 Richard Taylor 10 Alex Mortimer 11 Jim Davis 12 Lewis Milman 13 Anthony Potter 14 Elliot Boots 15 Richard Cree
B Final
1 Alex Mortimer 2 Matthew Lewis 3 Jim Davis
C Final
1 Leigh Parker 2 Jim Davis 3 Andrew Webb
D Final
1 Tony Truman 2 Andy Nicholas 3 Andrew Webb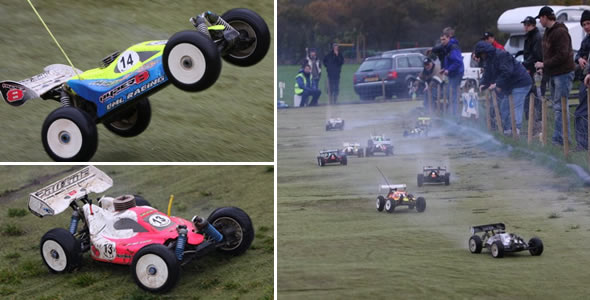 All pictures coutest of Collin, Chris and Wez.
Facebook