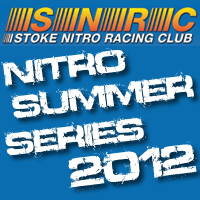 SNRC Fastrax Summer Series
15/08/12
Clive Maland reports back from round 4 of the Fastrax Summer Series held at Stoke Nitro Racing Club.
This time around weather started off fine, with a hazy muggy start to the day. The event this time saw 48 competitors in attendance. The event combined CML Fastrax and NitroXcross meetings, and as always, some closely fought on track battles were expected.

Early pace was set by Ashley and the Byron fuelled, Savox servo'd, Mugen works car. As for me a few mechanical gremlins cost me a good start! I was dead last some might say PPP p-poor-prep. I'd like to think it was bad luck...

Round 1, went to Ashlee Owen closely followed by Dominic Nunn, Colin Brennan and Rob Cork. Unfortunately Dom was not quick enough out to marshall and lost his fastest time. A shame for this young driver but rules are there for a reason and everyone was warned.

Round 2, again Ash dominated as he secured TQ. As for the rest well Dom put right his woe and finished 2nd again closely followed by Colin. My gremlins continued and I lost drive in the new rhythm section attempting to jump the double double. I was dead last and an uphill struggle was in sight!

On to Round 3, ans would Ash make a clean sweep? No. Elliot Taylor decided to pick up the pace and pinched the top spot while Ash finished 2nd, and Colin 3rd. I finally had a semi-decent round and finished 9th in round. This meant my days racing would totally depend on the fuel strategy and making the right set-up changes to my car for the now changing conditions. We had some rain during the day and more was to follow during the finals.





The Grid for the A:
Ashlee Owen, Colin Brennan, Elliot Taylor, Rob Cork, Mick Butler, James Bullivant, Dennis Holding, Dominic Nunn, Barry Timkins, Chris Hampshire, Darren Moult, Steve Carrigan, Clive Maland (Bump Up King), Rob Lloyd, Mark Thornwill.

I made the bump ups and arrived happily into the A. I was running my Team Associated RC8.2 with Highest DT1001 digital servos, Byron Fuel, and Reedy 2039 race pipe. I was experimenting with rigid chassis braces thicker roll bars and thicker AE shock oil, all of which aided to give me better more consistent running. I ended up with 8 x 1.3 pistons front and rear with 40WT front and 35WT rear. White roll bar front and blue roll bar on the rear. 100mm front shock length droop and 120 rear and 5K front 5K centre and 3K rear oil in the diffs. Nice.

In the main event Ashlee had a great start and basically led clear for the first lap. Behind? Well let's just say there were a few racing incidents and it was tricky driving thru them. After the opening lap we had Ash, closely followed by Elliot Taylor, Barry Tomkins, Colin Brennan, Steve Carrigan then Mick Butler followeing in close proximity.

Over the next few laps things changed quite dramatically. Ash basically checked out but left battles for 2nd and 3rd between Colin Brennan, Elliot Taylor, Mick Butler and Clive Maland (yes me!) After the last fuel stop and with only a few minutes remaining the order was, 1st Ash and well in front, with Clive Maland and Colin Brennan fighting for the 2nd and 3rd place honours. With some changeable weather conditions running in clear 2nd I was involved in officially what was classed as a racing incident. Basically I was taken out and relegated to 3rd, on the last lap on the last corner just prior to the transponder loop. Not happy, but that's racing. What goes around comes around.

Final finishing position: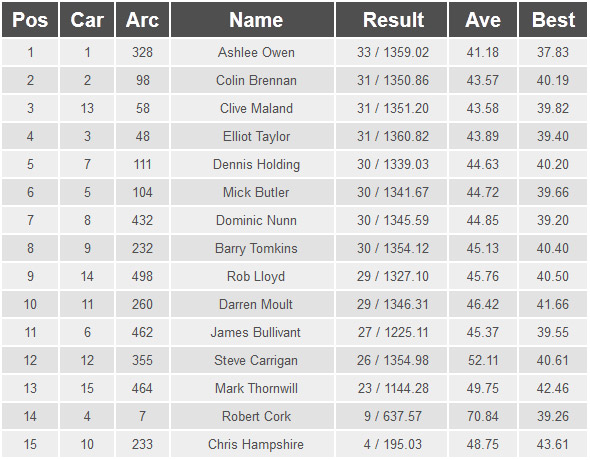 Well done to all competitors for a great days racing and special thanks to Jared and all the SNRC lads and Dads who helped out putting on the event over the weekend.

Related Products

Team Associated RC8.2 Factory Team 1/8th Scale Racing Buggy

Highest Drift Torque DT1100 Standard Size Digital Servo

Byron Race Gen2 Fuel

Team Associated Factory Team Half-Weight Shock Fluid