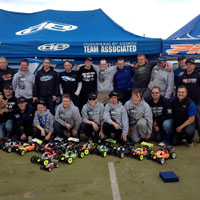 TMSC Round 5 NDOR
20/07/12
Frankly- No Derby- No NDOR
Whichever track you wanted we ended up at the trusty home of Mallet and the NDOR Track. With the UK weather out of control the decision was made for the series to host somewhere they knew everybody could get a dry days racing at a facility that wouldn't be washed out. Unfortunate for the Derby club but the right decision in my opinion. The Derby Track was completely waterlogged and even if the track was okay the field was inaccessible. Nobody could predict the problems that have been encountered so far because of the weather and its a shame this has effected the numbers slightly but all will be back on track for the remaining races. ..It happens as they say.....

From a team perspective we had a fantastic day. 5 cars in the final - unlucky not to be 6 with Sir Shake-of-Weston loosing his rear end (literally) in the last few minutes of the B for his bump up spot. Lloyd had some engine issues in the B to stop any chances he had of bumping into the A which he was quietly confident about. So we settled for a steady 5 which is great considering the level of competition at the series. It feels like the series has settled down into a nice rhythm now and its more controlled and calm. A more relaxed days racing.

A fantastic day of sunshine for a change and a good fun days racing for us guys. The RC8.2 is getting better and better. Mitch Booth Hit the ground running and stuck it firmly in the A in 9th spot. Jon Howells struggled most of the day after a full days practice on Saturday only to find out what he learn't on the half track layout didn't work on the other half. Jon was extremely disappointed with his result after the effort he'd put in. Normally a front runner at these races he was expecting more from Sunday but admits that its a track he does struddle at (this is how he says it). Back to the set-up drawing board for him. Young giant Adam Taylor finally made his mark in the TMSC by qualifying 5th overall and putting in a great performance. Unluckily for him he didn't start the final due to technical problems. Old Dave Bailey met his match after dominating the past few races at NDOR. The Dreschmeister (thats me, or fat Gary Barlow as my friends call me) finally got my act together, put in my transponder and charged up my receiver pack to get myself out of the D final and TQ overall. I've has a disaster in qualifying at the past 2 rounds so I wanted to put this poor preparation to bed. Posting the only 11 lapper of the day was a good finish to qualifying.

Whats new? Some of the guys were testing the new Centro rear tower which incorporates all the shock positions you could ever need. (a mix of the 8.2 positions and the Worlds upgrade positions which are higher and allow more up travel) The higher holes for bumpy conditions and the lower holes for smooth high bit tracks. A carbon hop-up to allow set-up changes for all track conditions.

The new vertical caster and steering blocks - only weeks away were used on both my car and Dave Baileys. He robbed my spare set to test.
AS89565 Verticle Caster Block, 16


AS89566 Verticle Steering Block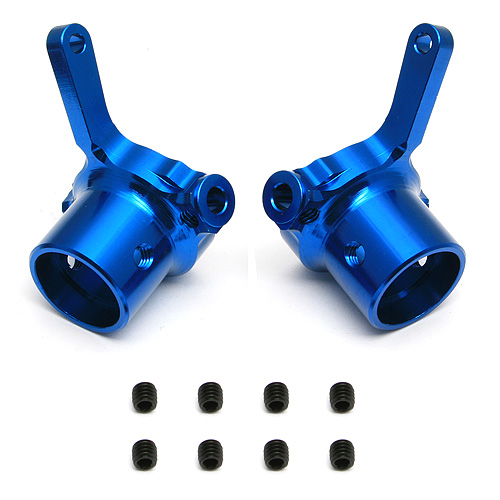 AS89567 Bushing and pin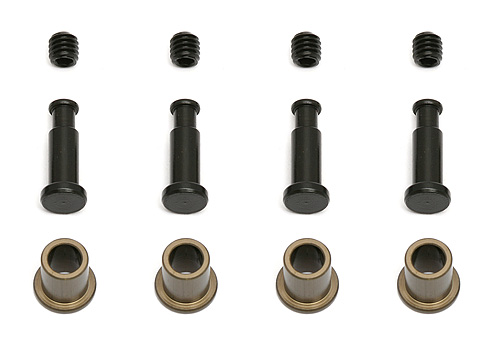 These parts are much simpler in design and not only change the characteristics of the car but make the front end more stable and take away all that unwanted slop. An expensive but cool and performance worthy accessory that will eventually be a staple dietary requirement. The guys that have tested these so far state that they make the car easier to drive, giving the car more feel but also giving the car more steering which as they say 'is weird' You've seen the blurb already so I don't need to explain further.

Apart from that it was back to basics- pick the right amount of wear on the tyres and go for it. This makes one of the biggest differences for us on the astro depending on the level of grip in the day. This is where we made a mistake a Nene Valley. In the beginning he track was full of sand which requires new tires to drive through the sand. Then the track cleaned up and was becoming higher bite as the day wore on. Finally the rain came and washed away more of the sand so by the time the C-A final came around it was mega high traction again and those running nearly new tires ( on our car especially) has way too much steering making the car very aggressive and unpredictable. Running more worn tires would have made a huge difference for us here and again this is a lesson learnt for next time.
Changes made throughout the day.
More front kick up to keep the nose up over the skip jumps- this made it much better in this section.
Heavier rear oil to help the car around the banked bumpy sweeper without dumping the weight over the rear. A good change in my opinion.
Longer front link to smooth out the initial steering. Fast becoming the change to make for astro.
Harder springs all round but I'm not convinced this was the right move. Perhaps AE blue fronts and AE silvers would be the best option on this occasion. I used X ray grey blues for most of the day.
More rake in the car with the new vertical blocks made the car easier to drive/ less weight transfer. Using the Centro ride height gauge makes this a synch to change. Check it out if you haven't already got one.....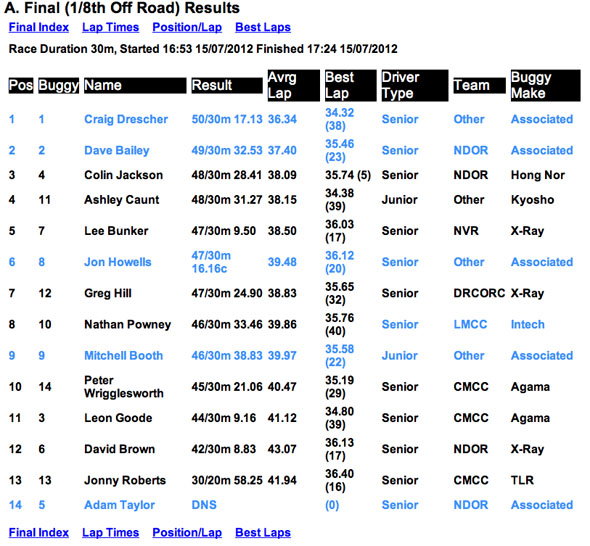 Astro- the marmite surface. The next one is on dirt and that will sort the men out from the boys.