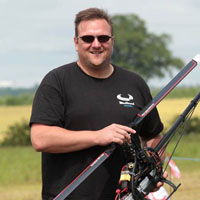 Savox Team Pilot Rob Turnbull reports on his win at the 3D Ireland Competition
09/07/12
The 3D Ireland 2012 competition was held at Shannon Model Flying Club just outside Limerick in the Republic of Ireland.
The weather was a little unkind on the first day of the competition, Saturday, with a pretty strong wind blowing through, and some occasional showers thrown in there for good measure. The competing pilots were assigned a random flight order position, and the guys running the event (Rodney Kee and Liam Broderick) managed the whole event brilliantly, calling a quick break in flying while the bad weather blew through, and getting proceedings marching on again when it was fit to do so. Tough times, but handled very well indeed. We managed to get through all of the rounds necessary on day 1 in order to find out who went through to the finals on day 2.

I managed to stove my Logo 600 in during my freestyle flight performing an extreme 3D manoeuvre a bit too close to the floor, but I had done enough in my flight up to that point to land in the top 5, putting me through to the finals where I could try again!

The finals day saw a much lighter wind from the other side of the field, but there were a few more rain shower interrupting proceedings for a bit longer each time. Once again though, the organisers kept things running when the weather allowed, and we got through all of the final fly-offs.

I am more than pleased to say that I managed to win in the Experts group (the top level). Several other pilots put on some extremely high quality flights in my opinion, and the final scores put a few of us very close. I have placed highly in several other competitions previously, but this was my first ever win, and Iím pretty pleased with it considering the calibre of pilots I flew against.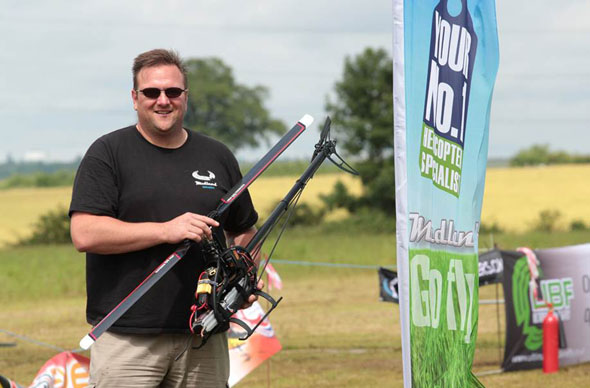 This is in no small part to the excellent quality components I make use of in my competition models. The model and the components fitted to it must be up to the job, and I try to push extremely hard when competing. The helicopters I use currently are Mikado Logo 600 3D machines kitted out with Savox High Voltage Brushless servos (2271SG cyclics and 2272MG tail servo), Scorpion HK3-4035-560KV Motor and Scorpion 130A SBEC ESC, Mikado VBar, Mavrikk 620mm Main Rotor Blades and NHP 100mm Tail Rotor Blades. The whole lot is powered by the best in Lithium Polymer batteries from Thunder Power. My main flight packs are TP4400-5SPP65 which I use two of in Series in this 10S model. My receiver pack of choice is the TP2700-2SPLRX, from which I comfortably get an astonishing 12 flights per charge owing to the efficiency throughout the model.