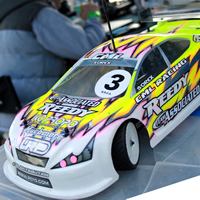 Associated Bounce Back In Style
18/06/12
After a disappointing round one Olly Jefferies wins round two of the BRCA touring car series at West London.
By their own high standards, the Associated touring car team would admit that their results at round one of this season's BRCA Touring Car Championship was below par, so heading in to round two, it was important to hit the ground running.

After three rounds of qualifying on Saturday Olly Jefferies topped the time sheets with two wins in rounds two and three and it looked like things were very much on the up for the Associated driver. Standing in his way at this point was Chris Grainger who had won the first round of qualifying.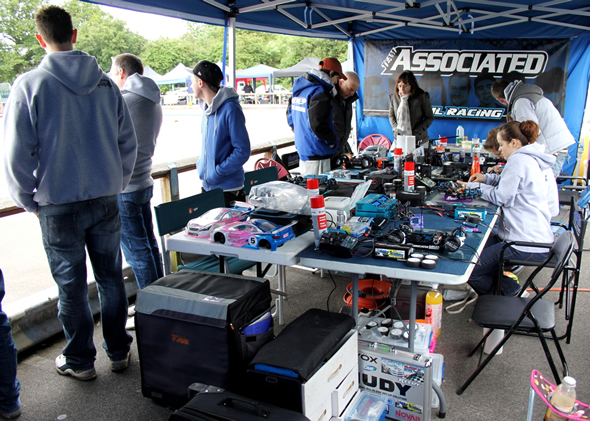 Inside the Associated pit tent.

It wasn't just Olly that was showing the pace of the TC6.1. Alan Bickerstaff was setting top ten times and just off the top ten Chris Slater and Zak Smith were also going well. The star performance was coming from Kyle Gardner - once again last year's academy star was matching the times of Zak and Chris and showing he has well and truly burst on to the touring car scene. On Saturday another academy driver, Ben Putt, was showing good speed but a few unlucky incidents were keeping Ben from showing his true form.




Ben's TC6.1 takes to the air.

Olly led over night but then in the first run on Sunday morning he lost out to Chris Grainger. This left the last round of qualifying a winner takes all round and Olly did just enough to win a very tight final round.

With his Reedy powered TC6.1 on pole Olly was joined in the A main by team mate Alan Bickerstaff and both drivers were looking good as the finals approached. Ben Putt put his Saturday jinx behind and posted two top fifteen times in during rounds four and five and was left cursing his Saturday luck. Kyle continued to shine and was right up there with Zak Smith. Between them the pair out-qualified some big names as they both lined up for the B final along with Chris Slater. With Chris Clarke also running a TC6.1 it was a case of 6 cars in the top twenty for Associated.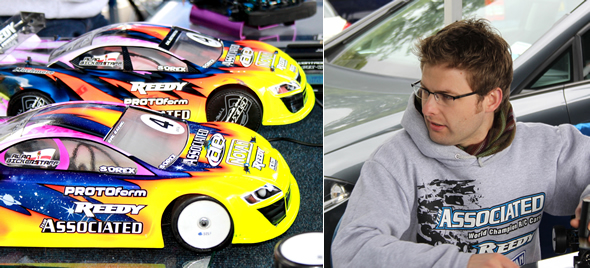 Alan Bickerstaff and his TC6.1.

Leg one of the A final and Olly had to shoulder some heavy pressure early on until mistakes dropped the chasing pack and Olly cruised to a leg one win. Leg two and Chris Grainger was breathing down Olly's neck for the first three minutes. Then as the pair entered the fast sweeper Chris put his nose up the inside of the TC6.1 and Olly eased the door shut. Due to the speed, and the fact they were going through one of the most demanding corners on the national touring car calendar, there was an inevitable clash. Chris waited for Olly to recover but in that time Colin Price had sneaked through to take the win with Olly second.

The final leg of the A final and a win for Olly and with it maximum points for round two of the BRCA national series. A well earned result which get his championship right back on track after a fifth at Cotswold's.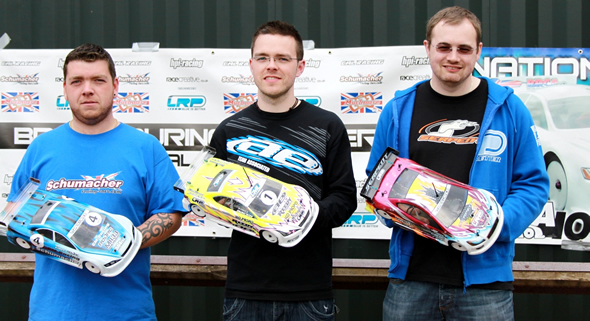 Olly claims top spot on the podium.

Usually from the back of the grid it's easy to pick up a few places as drivers make mistakes ahead of you. Unfortunately, there were no lucky breaks for Alan Bickerstaff this time and he finished disappointingly well down the order.

Strong drives from Chris, Kyle, and Zak in what was a very competitive B final saw them gather some very useful championship points going in to the next round at Halifax.

Olly's View

"It was a great weekend for not only me but the whole team, there was a real buzz in the gazebo and it was very rewarding to see Kyle now match the times of our more experienced team drivers" Olly said, "its also good to know that Kyle is a home grown talent and has been nurtured by the team rather than just brought in to the team line up, it's a testament to out academy program, same goes for Ben who was really on it at the weekend, its noticeable that our junior drivers have developed from learning from the seniors in the team to contributing to set ups and testing, the academy was set up to develop drivers and we have seen all our drivers, Kyle, Ben and Judy walker all make good progress as they benefit from experienced drivers on the team."

"Going back to the weekend this years national championship is the most competitive and tight for many years, any one of possibly twenty drivers could win a national and mistakes and errors are now heavily punished due to the depth of competition, so wining at West London is a great result for us, consistency may be the key to a good championship campaign, so with that in mind we start to prepare and plan now for round three at Halifax."