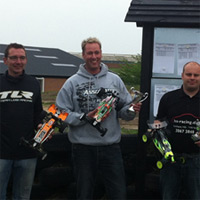 C4.1 Does It Again
24/05/12
The Associated/CML C4.1 finishes 1-2 at the 3rd round of the Danish DRCMU 1:10 offroad nationals.
Jonas Kaerup took his GM powered Associated/CML C4.1 to pole and victory this weekend in Viborg near the center of Jutland, in Denmark.

The carpet track was fast and challenging and provided some good action for the drivers and spectators. Around 50 drivers entered the race, and although qualifying was wet, we were greeted with sun for the 6min long finals.

Many drivers chose to reduce their motor power, no more so than Jonas, who went to a 9,5t motor with no timing.

Torben Hojfeldt finished a strong second with his GM powered C4.1, and now leads the championship.

Marcus Kaerup also contested his only second race at the age of 4, he did well to finish 5th with his Associated B4.1.


Related Products

Centro C4.1 Conversion Kit for the Associated B4.1