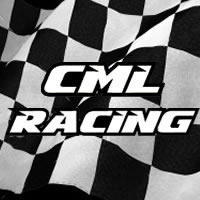 Welsh Open Championship
27/07/10
Sunday July 18th 2010 saw the 3rd round of the Welsh Open Championship held at the Mid Wales Rock Crawling Club in Llandrindod Wells, Wales.
The event was the second Rock Crawling competition at Mid Wales Rock Crawling which is one of only two Rock Crawling purpose-built venues in the United Kingdom. It has two separate sections with very challenging and unforgiving rocks, which is enough to set out two courses at once.

As for the running order, a record equalling fourteen competitors were split into two groups of seven, which turned out like this:

Group 1: Neilus, Skipeee, Upandover, Skyhigh, TURTLE, Nice Guy Mario, Sam Sibley,

Group 2: Ruffryder, Tony Clee, Martin, Raving Rich, Dom Charlton, Perfectsib, Igbandy.

Course 1 was set on the more difficult of the two sections and there some hard climbs and arkwardly positiioned gates. While Ruffryder and Tony Clee escaped with minus scores, six of the other competitors were timed out and therefore cost themselves some very valuable points in doing so.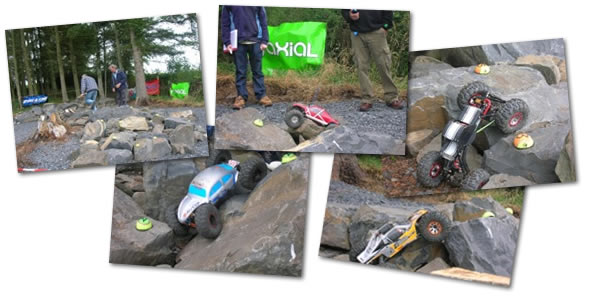 Before Course 2 was run, TURTLE fell ill and was unable to complete the rest of the round (meaning he would unfortunately receive 20 points for each of the remaining gates he didn't attempt). Although this course was set on the easier of the two sections, it was only easier by a slight fraction as even the top drivers were only missing touching the gates by a whisker. Ruffryder managed to pull off a clear round from here while there minus scores for Tony Clee, Skipeee and Martin.

As everybody settled down for lunch (which was a feast of barbercued meat), the scores at the halfway point of the round looked like this:

Course 3 was the second course to be set on the difficult section of the two and although it looked more difficult than the first course from earlier in the day, Ruffryder managed to get a clear run with Neilus also getting a minus score.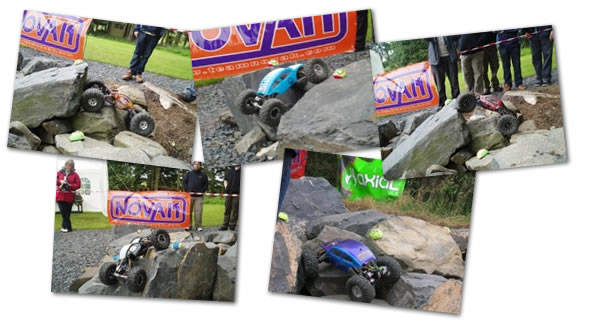 Course 4 was set on the only slightly easier section, but still gave drivers a big headache, despite Skipeee and Neilus acquiring minus scores.

After four grueling and challenging courses, the final standings for the round were:

1st: Ruffryder -20
2nd: Neilus -10
3rd: Skipeee -5
4th: Tony Clee 40
5th: Martin 56
6th: Igbandy 93
7th: Raving Rich 99
8th: Perfectsib 145
9th: Upandover 202
10th: Sam Sibley 262
11th: Dom Charlton 281
12th: Skyhigh 313
13th: Nice Guy Mario 328
DNF: TURTLE

As for the overall standings, South Wales Rock Crawling Chairman Mike Davies (aka Upandover) made the decision that no competitor can be classified a position until they have completed at least four rounds. With 3 rounds left the Championship is still wide open!

For more information on the club visit the Mid Wales Rock Crawling website.