Axial AX10 Ridgecrest RTR 1/10th Scale Electric 4WD Rock Crawler

The original AX10 Scorpion hit the market in April of 2007. It was Axial's first vehicle which brought crawling to the mainstream and quickly became the most influential crawler in the industry. Since then, Axial has made numerous advancements through a variety of chassis designs which developed new categories within the crawling segment.

While the shaft-driven AX10 chassis made crawling available to the masses, the market was split into two categories; scale and competition. Axial answered both with the development of the SCX10 realistic metal c-channel frame which became the de-facto chassis for the scale scene, while the XR10 answered the call for a motor-on-axle competition rig and claimed the national title.

The most noticeable performance upgrade of the AX10 are the Ripsaw tyres, with their 5.5" tall by 2.1" wide stance, mounted on officially licensed Raceline Renegade wheels. But what you do not see is the updated suspension geometry that also delivers better articulation. All delivered through Dana 60 inspired AR60 OCP-Axles that have already been proven on the Axial Wraith™.

The AX10 Ridgecrest is a highly capable, affordable starting point for anyone. If you are not sure what you want to do and how you want to do it within the various segments of crawling, the AX10 Ridgecrest is the most versatile truck with scale looks, performance driven components and the right amount of speed mixed with technical crawling prowess – all in one rig.



AX10 Ridgecrest RTR Features:




AR-3 2.4ghz Transmitter And Receiver
Tube Style Chassis
Adjustable Battery Tray
Spur Gear Cover
Slipper Clutch
High Performance Shocks
AR60 OCP-axle
4-link Suspension
WB8 Splined Driveshaft
2.2 Ripsaw Tires
2.2 Raceline Renegade Wheels
Vertically Mounted ESC
Waterproof Receiver Box
20T Motor




Spec Check:




Wheelbase: 307mm
Length: 467.4mm
Width: 295.3mm
Height: 238mm
Ground Clearance: 76.2mm
Weight (without battery): 1.9kg




Please Note: This model requires a battery, charger and 8xAA batteries for completion.





Part #
Description
Price (RRP)
AX90019
Axial AX10 Ridgecrest RTR 1/10th Scale Electric 4WD Rock Crawler
£329.99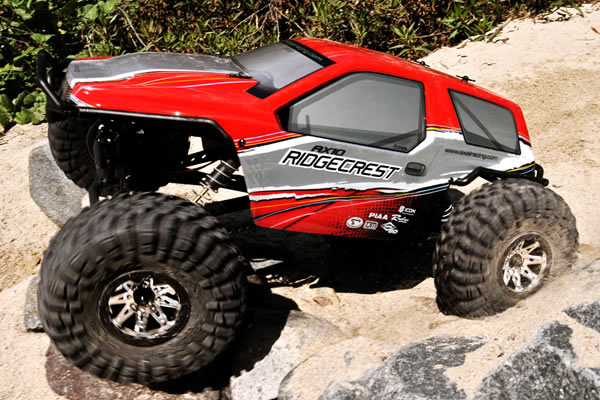 Actual product may differ slightly from picture shown.
1 of 19



Axial AX10 Ridgecrest RTR 1/10th Scale Electric 4WD Rock Crawler Thumbnail Gallery