RPM Roof Mounted Light Bar Set - Chrome

The RPM Roof-Mounted Light Bar Set looks just like the roof light sets of current Baja 1000 trucks. It incorporates six of our light canisters (the same used in the front bumper light set of RPM80982 & RPM80983). Each of the six canisters is capable of holding a high intensity, 3mm LED (not included) for the ultimate in night time off-road racing experiences.

These light sets will fit all current 1/10th and most 1/8th scale (although specifically designed for 1/10th scale) "Short Course"-style bodies! That's right, they will fit the Traxxas Slash, Associated SC10, Losi Strike & HPI Blitz to name just a few.

The goal of the Roof-Mounted Light Set was to recreate a scale version of those light bars found in full-sized night racing while striving for some reasonable amount of crash-survivability. The light mount set uses a unique hinge-based system that in the event of a roll-over, the light bar will collapse against the body to help reduce impact damage. The light set is designed to bolt to the front windshield of the truck (although with sufficient room, it can be mounted to the rear window as well), keeping the profile low and in the perfect position to light up the night! A pair of large backing plates are supplied that help protect the body where the screws hold the light bar in place.

Each kit comes complete with all necessary mounting hardware, light canisters, molded parts and instructions. The instructions also show how to easily create your own LED light set-up with a few basic electronics skills, some tools and a little patience.

What's Included: 1 - Light Bar, 1 Canister Mounting Plate, 2 - Body Mounts, 2 - Backing Plates, 6 Light Canisters, 6 - Lenses, 6 - Light Guards, 1 Mounting Hole Drill Template, all necessary hardware and complete instructions for assembly.
Chrome light bars come with chrome light canisters. Both black and blue light bars come with black light canisters.



Part #
Description
Price (RRP)
RPM80923
RPM Roof Mounted Light Bar Set - Chrome
£16.79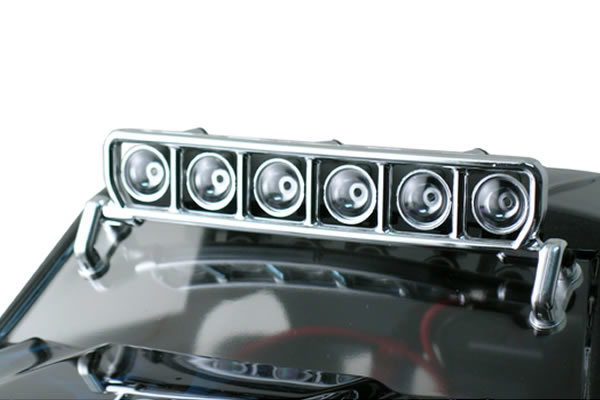 Actual product may differ slightly from picture shown.
1 of 1