Byron Rotor Rage Advanced Competition Helicopter Fuel

At the heart of each Rotor Rage blend is a cutting edge lubrication formula that provides greater flowability throughout the engine to insure superior lubrication and previously unheard of performance—all at lower operating temperatures. The higher flash points, as evidenced in the decrease in smoke and absence of deposits inside the engine, insure the lubrication survives the combustion chamber and continues to do its job.



Byron Rotor Rage Features




More power throughout the entire power curve
No deposits left inside the engine
Less smoke than other helicopter blends
Cooler operation
Greater consistency, gallon after gallon
Bold red colour for quick read of fuel tank


10%, 15%, 20% and 30% Rotor Rage Helicopter Fuels feature a 20% Proprietary LowVis Synthetic package and provide the same benefits to sport flyers as 30% provides in competitors fuel.

Supplied in 1 gallon bottles.



Part #
Description
Price (RRP)
B2120036
Byron Rotor Rage 10% Advanced Performance Helicopter Fuel - 20% LowVis
£20.49
B2120042
Byron Rotor Rage 30% Advanced Performance Helicopter Fuel- 20% LowVis
£33.79
B2120043
Byron Rotor Rage 20% Advanced Performance Helicopter Fuel - 20% LowVis
£28.69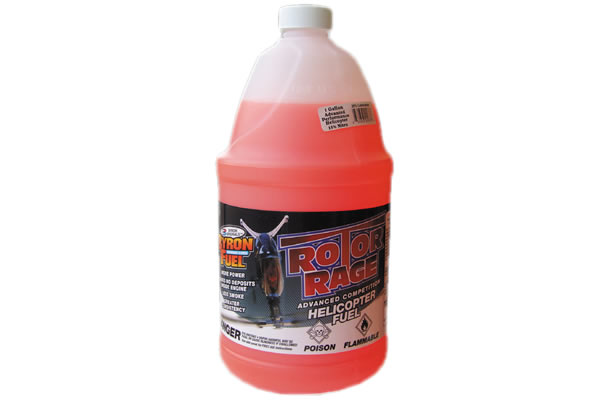 Actual product may differ slightly from picture shown.
1 of 1