Venom V550 4200kv Motor with 80A Waterproof ESC Combo

This lethal combination of the 80 Amp Waterproof ESC and V550 4200Kv brushless motor will push your 4wd Short Course truck to insane speeds. The waterproof 80 Amp ESC allows you to run in virtually any condition without damage.

This motor/ESC combination comes pre-installed with battery connectors and heavy-duty bullet plugs between the motor and ESC. A finned heat sink and fan keeps all the components cool while pushing your vehicle to the limit. Also included is the Venom Glitch Buster (VEN1654) to smooth out voltage dropouts in the BEC.



ESC Spec Check:




Continuous Current: 80A
Battery Cell Count: 2-4 LiPO
Dimensions: 49 x 44 x 30 mm
Weight: 3.13 oz (88.7 g)
BEC: 3A/5V Switching
Programmable: Yes
Battery Connector: EC3




Motor Spec Check:




Rpm/V (Kv): 4200
Battery Cell Count: 2 Cell LiPO
Dimensions: 35 mm x 60 mm
Weight: 7.55 oz (214 g)
Max Current: 60 amps
Shaft Size: 3.17 mm




Please Note: Do not use NiMH batteries with this Motor/ESC combo. Power consumption is too high and will lead to random shut downs of the ESC.





Part #
Description
Price (RRP)
VEN1395
Venom V550 4200kv Motor with 80A Waterproof ESC Combo
£124.99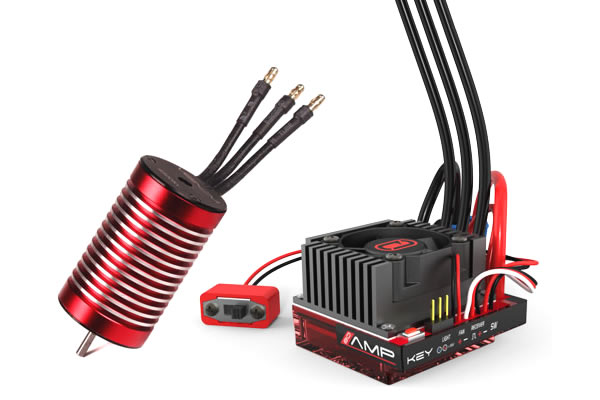 Actual product may differ slightly from picture shown.
1 of 1