FMS Mini BF-109 Messerschmitt 800 Series RTF Electric Warbird w/o TX/RX

The Messerschmitt BF 109 was the most produced fighter aircraft of World War 2 and was powered by the Daimler Benz DB605 V12 producing over 1400hp. The aircraft was very cleverly designed to be very light and strong giving a very successful high performance war bird.

The Famous models BF 109 has been carefully created to give maximum reward to the budding pilot. The aircraft features a brushless motor, 20Amp ESC and 3 ready installed servos. Assembly takes minutes following the simple photo step by step assembly guide.

The EPP construction gives a light yet resilient airframe that will take much punishment and just bounce right back into the air!

Compact, adrenaline fuelled, big packet of fun still doesn't do verbal justice to this airframe, we love it! Dog fights really become genuine fun with this range of aircraft so what are you waiting for 'Make like a tree and get down to your local models shop!' you wont regret it.



Mini BF-109 Messerschmitt Spec Check:




Wingspan: 800mm
Length: 750mm
Weight: 430g
Battery: 7.4V 1000mAH LiPo Battery & Charger
Motor: Outrunner Brushless Motor
Electrics: 3 Servos And 1 Brushless ESC




PLEASE NOTE: This models requires a 4CH Receiver/Transmitter for completion.





Part #
Description
Price (RRP)
FS0079D
FMS Mini Bf109 Messerschmitt 800 Series RTF Electric Warbird w/o TX/RX
£86.99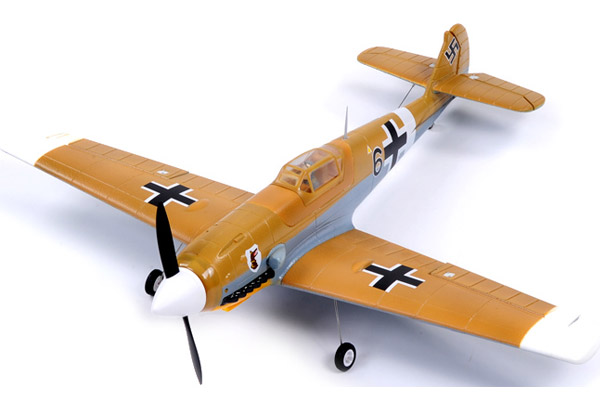 Actual product may differ slightly from picture shown.
1 of 12



FMS Mini BF-109 Messerschmitt 800 Series RTF Electric Warbird w/o TX/RX Thumbnail Gallery