Proline Scrubs T 2.2 M4 (Super Soft) Off-Road Truck Rear Tyres

This is a pair of Scrubs T 1:10 Truck Tires. Introduced for the first time at the 2012 Pro-Line Cactus Classic, the all-new Scrubs T Truck Tire is ready tear up your local track! The Scrubs tread design features a combination of ultra-low profile bars and pins specifically designed for hard packed/blue-grooved conditions and indoor clay tracks. The straight bars down the middle of the tire provide incredible forward traction while the mini-pins on the sides give consistent and predictable side bite. The center tread has the iconic "eyes" and "mouth" design that is carried over from the other Scrubs tread designs and delivers long lasting tread to the most critical part of the tire. When run on the front of your truck, the Scrubs T tire provides tons of consistent steering proven by the fact that this was the tire of choice for many A-Main drivers at the 2012 Cactus Classic – including Dakotah Phend! Truck racing is making a comeback, so outfit your ride with the latest in Truck Racing Tire Technology – Get a set of Scrubs T tires today!



Low-profile bars provide Incredible Forward Bite
Mini-pin side tread delivers consistent side traction
Represents latest and greatest for 1:10 Truck Racing
Inner webbing resists tire expansion





Please note: All tires & wheels are sold in pairs, unless otherwise noted.




Part #
Description
Price (RRP)
PL8217-03
Proline Scrubs T 2.2 M4 (Super Soft) Off-Road Truck Rear Tyres
£17.99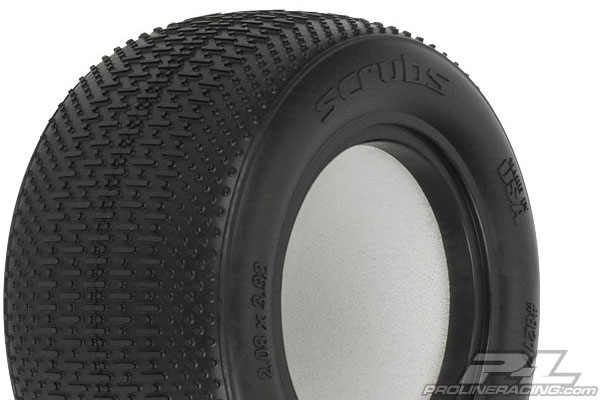 Actual product may differ slightly from picture shown.
1 of 3



Proline Scrubs T 2.2 M4 (Super Soft) Off-Road Truck Rear Tyres Thumbnail Gallery