FMS Mitsubishi A6M Zero 1400 Series ARTF Electric Warbird with Retract Landing Gear & Flaps

The A6M Zero was a long-range fighter aircraft operated by the Imperial Japanese Air Service. In early combat operations, the Zero gained a legendary reputation as a 'dogfighter' remaining king of the air until around 1943. The aircraft was designed with long range and performance in mind, durability and pilot protection were not considered priorities and this led to many very good pilots to loose their lives. Ultimately this resulted in an Allied advantage later in the war.

FMS have continuously developed and improved its 1400 Series Aircraft. The new Zero brings a cleverly constructed and extremely agile aircraft to the masses.

A new wing design incorporates a GRP socket and carbon wing tube, aileron stiffening inserts and 6 retaining screws. The resulting wing is light and extremely rigid making it very responsive, just like the real thing!

The Zero is 'feature loaded' from tip to tail with wonderful scale detailing, it even has fabric and rib effect on the ailerons and elevators. The worm drive retracts are complemented with 'super slow servo' operated inner gear doors and the fixed tail wheel driven off the rudder servo.

The super slow flap actuation is very effective and a real pleasure to use allowing for very realistic landings.

Wonderful low wing loading, large and stiff ailerons and a very responsive powerful power train make for an incredible flying machine. Inverted flight, point rolls, barrel rolls, Immelmans, slow rolls, half Cubans and split-ess are an absolute pleasure to perform and watch.

The FMS 1400 Series - A6M Zero is the new must have model; great scale lines and looks, durable EPO foam construction, fully feature-laden detailing and flaming fantastic flight performance!



A6M Zero Features:




ESC – 50 Amp (4amp SBEC)
8 Servos installed
Brushless Outrunner
Controls – Aileron, Flaps, Rudder, Steering tail wheel, Elevator and Throttle
Door and Retract sequencer board
'Slow' Flap Servos
'Slow' Gear door Servos
3 Piece spinner
3 Blade Propeller with painted tips (includes spare blade)
Fabric effect on Ailerons and Elevator
Stiffened Ailerons
CF Wing tube and GRP socket removable 2 Piece wing design
Fixed vertical and horizontal stab (glued by end user)
3 Wing machine guns
Detailed removable resin cowl with machine gun exhaust detailing
Worm drive electronic retracts with 2 piece gear doors
Pilot
Red and green wing tip LED's




Spec Check:




Wingspan: 1400mm
Length: 1085mm
Weight: 1880g


Required to complete: 4S LiPo Battery, 6 Channel Radio and Receiver.

We recommend the 3300-4000mAh 4S LiPo Battery from Voltz.




Part #
Description
Price (RRP)
FS0124G
FMS Mitsubishi A6M Zero 1400 Series ARTF Electric Warbird with Retract Landing Gear & Flaps
£234.99
FMS Mitsubishi A6M Zero 1400 Series ARTF Electric Warbird with Retract Landing Gear & Flaps Image Gallery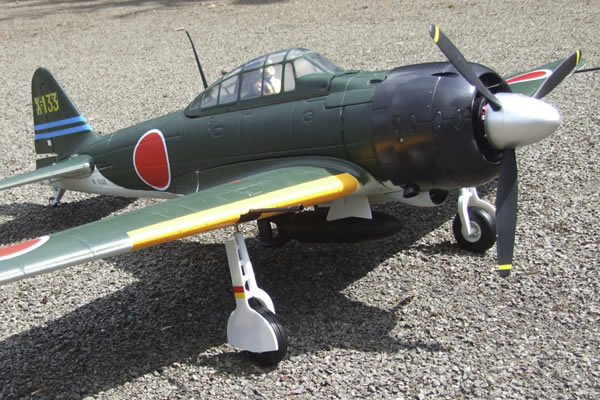 Actual product may differ slightly from picture shown.
1 of 20



FMS Mitsubishi A6M Zero 1400 Series ARTF Electric Warbird with Retract Landing Gear & Flaps Thumbnail Gallery