FMS F15 Eagle ARTF 64mm Ducted Fan Electric Foam Jet

The McDonnel Douglas F15 Eagle is a twin engine aerial combat tactical fighter. It first flew in 1972 and entered US service in 1976. Maneuverablity and tight turn radii are key to the success of this aircraft and this was enabled by the low wing loading and high thrust output.

Like its full size brother the Famous F15 has a great power to weight and is extremely agile. When it is slowed down it still retains excellent flight characteristics and it remains stable and predictable even when landing. The desert colour scheme works really well and makes it a high contrast when its in the air, it also presents itself very well.

The supplied 1300mAh 3S Lipo battery perform in perfect partnership with the outrunner brushless motor and balanced fan provide a high octane EDF at a cracking price.

Gone are the days of night after night of building, this aircraft will be ready to fly right out the box before the battery has charged following the step by step photo assembly guide, we know you are going to enjoy this little gem.



F-15 Eagle Spec Check:




Wingspan: 710mm
Length: 960mm
Weight: 660g
Battery: 1300mAh 3S Lipo Battery
Motor: Outrunner Brushless Motor
Electrics: 5 Servos And 1 Brushless 30A ESC




Please Note: This model requies a TX/RX for completion.





Part #
Description
Price (RRP)
FS0038D
FMS F15 Eagle ARTF 64mm Ducted Fan Electric Foam Jet
£129.99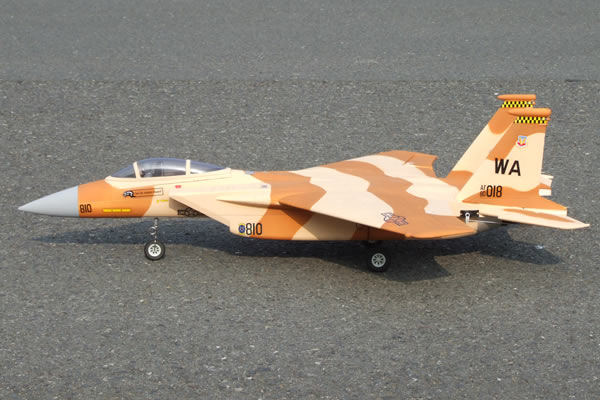 Actual product may differ slightly from picture shown.
4 of 15



FMS F15 Eagle ARTF 64mm Ducted Fan Electric Foam Jet Thumbnail Gallery