Top Gun ARTF Fibreglass L-39 Albatross Trainer 70mm EDF Jet

Top Gun are pleased to announce a range of new premium jets for all EDF fans. The Aero L-39 Albatros is a high-performance jet trainer aircraft developed in Czechoslovakia. These composite kits are full fiberglass fuselage beautifully crafted and finished in a choice of 3 colour schemes, wing is fully built up film covered and one piece, it runs outboard servos for the ailerons and undercarriage mounts are in place but the film has not been cut away, perfect for those wanting to bungee launch and land on grass.

The finish on this model is fantastic. The Kit comprises of complete airframe with all fittings, moulded inlet ducting and pre-cut joiners and exhaust ducting. Also supplied is a 70mm 5 blade GRP fan unit and a BL2842 out-runner motor is rated to 1000 watts! Recommended size batteries for best performance is 4S 3200-4000mAH along with an 80amp ESC.



L-39 Albatross Features:




Available in 3 very striking scale colour schemes
Very large battery cockpit with quick release system
Drop-in High performance Fan and Brushless Motor Assembly includes full inlet and outlet ducting
Expertly built and covered flying surfaces
Large flaps to slow the aircraft on landing approach, its a breeze to bring it in on the rear wheels, and drop the nose gently down for the true scale landings
Wow your friends with a high end replica of the L39 Albatros
High quality and High performance without the usual High costs
Comes with fixed undercarriage, undercarriage can be left off for bungee launch and landing on grass.
Optional accesories are the Top Gun air retract set and CNC machined OLEO Struts!! These struts are beautiful, some of the best around and worth every penny
CD with very detailed colour build instructions (over 80 online pages) covering all the installation of factory accessories and options such as rudder option and retract installation all make this Hawk a pleasure to build, fly and opperate
Light weight composite fuselage combine seamlessly with the built up flying surfaces to give a lightly loaded fully aerobatic speed machine. [*]Explore the world of High Performance Electric Ducted Fans without the mess and expense of Jet Turbines.




Spec Check:




Wingspan: 890mm
Weight: 1300 – 1700 g
Length: 1150mm
Recommended Motor: 2842MB1 @ 3200KV (1100W)
Recommended ESC: 80A+
Recommended Battery: LiPo, 4s 3300 - 4000 mAh
Radio System: 5 - 6 Channel (optional retracts)




Requires battery, servos, esc, TX/RX to complete.





We recommend LiPo Batteries from Voltz.





Part #
Description
Price (RRP)
TG3102
Top Gun ARTF Fibreglass L39 Albatross Trainer 70mm EDF Jet
£225.49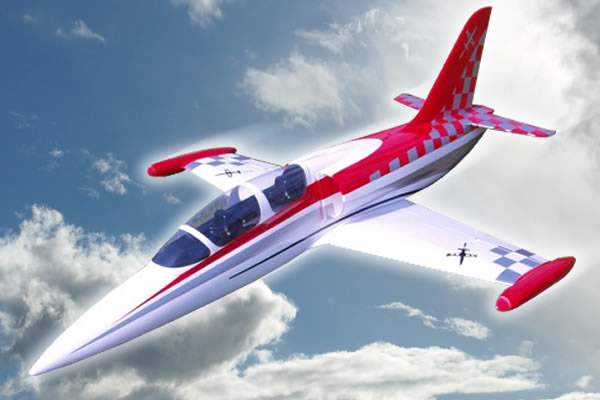 Actual product may differ slightly from picture shown.
1 of 1